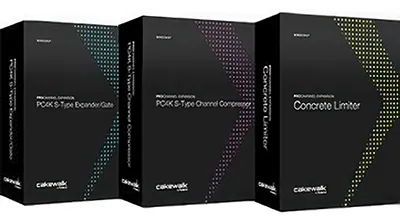 The Cakewalk ProChannel Module pack is an almost obligatory addition to Cakewalk productsthat allows you to expand your audio processing capabilities at the level of professional music industry standards using native emulators of legendary devices! This package includes 3 modules: Cakewalk PC Concrete Limiter ; PC4K S-Type Channel Compressor and PC4K S-Type Expander/Gate which can be added to ProChannel on every audio/instrument track.
The distribution contains dark skins for all three modules, plus – for PC2A Leveling Amplifier , all instructions for their integration are contained in the appropriate folders in the "Dark Skins" general folder .
ProChannel Concrete Limiter
Tame wild peaks and get sharper mixes with the ProChannel Concrete Limiter . Designed exclusively for SONAR X1 Producer Expanded and SONAR X2 Producer's ProChannel , the advanced DSP Concrete Limiter combines high transparency, feedforward, low latency limiting and is suitable for peak limiting individual tracks and maximizing the level of mix busses.
Turn up the volume of your mix.
It is extremely important to create mixes that stand out from the crowd. And it's not just about being loud. It's about maintaining punch, clarity and good dynamics while achieving the levels needed for a particular sound or entire mix to stand out and get noticed.
The Concrete Limiter uses smart lookahead and oversampling techniques, smooth gain curves, and frequency-dependent clipping to intelligently control peaks that never sound harsh or strangled. And that's with a latency of just 1.5ms, so you can use it in a mix and still get audio tracks and soft synths playing and recording with maximum dynamics.
Efficient CPU usage, low latency, optimized timing, and native x64bit architecture mean you can run as many instances as you'll ever need at the same time without the danger of overwhelming system resources.
PC4K S-Type Channel Compressor
A must-have addition to your effects arsenal, the PC4K S-Type Channel Compressor adds console-style vintage-era channel compression to every ProChannel strip in SONAR.
Extra Compression
Cakewalk offers a thoughtful collection of ProChannel effect modules carefully designed to complement each other and avoid duplication of features and applications. And the S-type channel compressor PC4K is no exception. With high transparency and soft characteristics, this module is particularly well suited for compressing and equalizing various audio material: bass, keyboards and rhythm guitars. Flexible drag-and-drop routing and manual output gain control bring a modern twist to an old classic.
PC4K S-Type Expander/Gate
The Expander/Gate PC4K S-Type Module is an optional module available for ProChannel SONAR.
Why use an expander or gate?
Add life to your tracks
Often a sample, loop, or other track sounds flat and lacks the dynamics needed to spice up a mix. The expander can be used to reverse the effects of a compressor or to add extra dynamic range to a performance. Now you can add variable volume back to a performance that was over-compressed or simply performed without sufficient expression. Bring vocal tracks to life, breathe new life into drum loops, drum loops, and more. The PC4K S-Type Expander/Gate is not just an expander, it is based on the legendary vintage style channel expander used on large-sized studio consoles and featured on countless albums over the past 30 years!
Installation and treatment
There are 2 installers in the distribution – ProChannel Concrete Limiter and PC4K S-Type Channel Compressor , and the PC4K S-Type Expander / Gate module is presented in a folder that must be copied entirely along the route:
C:\Program Files\Cakewalk\Shared Utilities\Internal.
Install the first two modules in turn, followed by the activation of each of them. Run the keygen from the very beginning, because at the beginning of the installation, you will need to copy the serial number from the installation window, and enter it in the appropriate field in the keygen, generate a registration code, do not close the keygen and do not change anything in it. After installation, scan the plug-ins in Keywalk, and on any audio track in the open section " ProChannel " add the newly appeared module, after which it will require you to enter the registration code from the keygen. Finish registration and restart Cakewalk.
The PC4K S-Type Expander/Gate module does not require any additional activation.