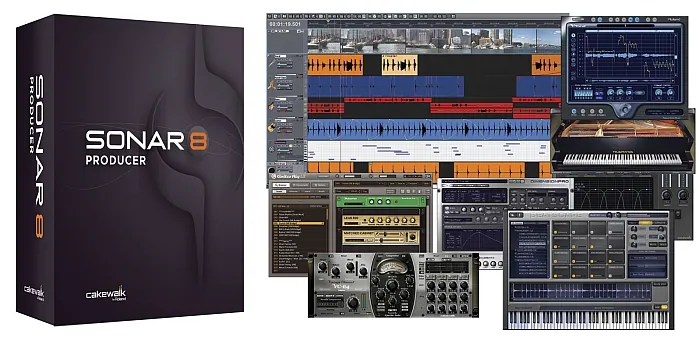 SONAR 8.5 Producer: Production Potential
SONAR 8.5 Producer stands as the pinnacle of digital audio workstations, offering a comprehensive suite of features to elevate your music production experience. Building upon the foundation of SONAR 8.5 Studio, this premium edition introduces exclusive tools and a treasure trove of effects, including 64-bit linear phase mastering effects, vocal and percussion processing, and much more.
Discover the Highlights:
Session Drummer 3: This versatile drum and percussion sequencer boasts a photorealistic drum kit user interface, loaded with over 200 different drum sounds across 20 kits and hundreds of patterns. Fine-tune your kits with a dedicated mixer page. Access content from Ocean Way Studios, Sonic Reality, Steven Slate, and Groove Monkee.

Dimension Pro: Dive into a world of sonic possibilities with this wavetable synthesizer. Explore electric pianos, organs, basses, orchestral instruments, strings, woodwinds, brass, ethnic sounds, and more. Enjoy over 1,500 patch presets and a whopping 8 GB of content.

TruePianos Amber: Experience a realistic piano model with seven distinct options and intuitive controls for reverb and speed adjustments.

Rapture LE: A lightweight version of the table-wave synthesizer Rapture, this instrument delivers synthesized sounds, leads, basses, pads, and sequences, featuring a wealth of presets.

Roland TTS-1: Unlock the power of a 16-channel GM2 multitimbral instrument. Explore keys, horns, strings, guitars, drums, and more, backed by 256 patch presets and 9 drum kits.

DropZone: This drag-and-drop sampler and REX editor opens doors to bass guitar, piano, pads, drums, vocals, and REX format loops, with nearly 300 MB of programs, REX files, and multisamples.

Pentagon I: Revel in warm retro analog sounds with unlimited parameter control, including a Voice Modulator.

PSYN II: Dive into the world of subtractive synthesis with bass, leads, pads, and more. Access 8 banks filled with over 550 patches.

Roland GrooveSynth: Explore the world of genuine Roland synthesizers and beatboxes, including legendary 808 and 909 sounds, across 30 instrument categories.

RXP: Master REX loops and sample playback with the ability to program and sample drums and other patterns and grooves. Enjoy over 250MB of REX loops.

SFZ: Immerse yourself in the SFZ SoundFont Sampler's high-quality sample playback engine, supporting SF2 files with 256 polyphonic voices and an unlimited number of layers per voice.

Beatscape: Enhance your music creation process with this 16-pad looping/performance tool. Ideal for layering, triggering audio clips, and crafting beats and grooves. Comes with 4GB of custom-designed looping kits.

Cyclone: A 16-pad groove sampler designed for loop-based music. Load, edit, and run your own loops and grooves in ACID format.

DreamStation DXi: This classic analog modeling instrument enables easy patch creation, including a "Randomize" function for generating new patches effortlessly.

Engine Operation: Seamlessly connect and disconnect audio interfaces, MIDI interfaces, and control surfaces while SONAR is running without rebooting. Enjoy optimized stability during audio recording and looping tasks.