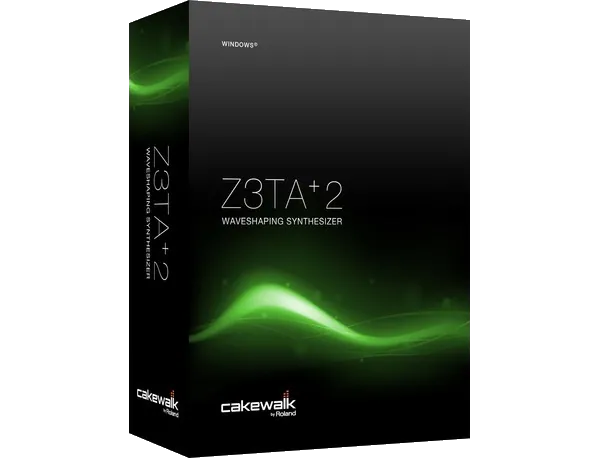 Z3TA Plus 2 is designed to suit any and all of your electronic productions. From pop to rap, energetic to atmospheric, you'll have the sounds you need at your fingertips.
The legendary waveshaping sound of Z3TA+ (zay'-ta) is back – and better than ever. New filters, modulatable waveshapers, flexible effects, expressive control and a gorgeous new interface make 
Z3TA+ 2
 one seriously powerful synth. It's not often that a soft synth can be called a classic, but in the case of Z3TA+ it's definitely appropriate. Used on countless tracks over the past decade, Z3TA+'s distinctive sound has been a staple of electronic artists the world over.
Waveshaping Synthesis for the PC
● Ultimate waveshaping control with dozens of sonic tools
● Intuitive and graphically responsive interface
● 2,000+ professionally crafted presets
● Built-in fully customizable studio quality FX.
New in Z3ta+2:
We've recently updated Z3TA+ 2, introducing a wealth of new features and enhancements for Windows users.
● AAX Support for Pro Tools users
● Windows 10 Support
● VST3 Support
● 4 Stage Phaser
● Arpeggiator Bypass
● Improved Search Functionality
● Load FX from another program
● Mod Matrix Additions
● Dozens of fixes and enhancements
Waveshaping Synthesis
● Choose, tweak, and fine -tune your waveform
● Free and adaptive pitch-bending analog style performance grid
● 14 continuously variable dual-stage filter types
● Envelopes to control any parameter
● 6 Powerful LFOs for individual or universal control
● Straightforward Mod Matrix and Arpeggio tools
● Global control for a crushing brickwall limiter, level, tuning, and polyphony
Built-in Effects
● 5 distortion types, plus routing options and continuously variable controls
● Slow, Medium, and Fast compression with threshold, ratio , and makeup gain controls
● Totally tweakable Room, Hall, and Plate reverbs
● 7-band graphic eq with variable band settings and colorful Simulator Mode
● 9 adjustable Chorus, Phaser, and Flanger effects
● 4 Stereo Delay types with Sync and EQ controls
● Drag-and-drop effects in any order
Supported in the following DAW Software
● SONAR
● Music Creator
● Cubase
● Protools
● FL Studio
● Studio One
● Additional VST/AAX Compatible Hosts