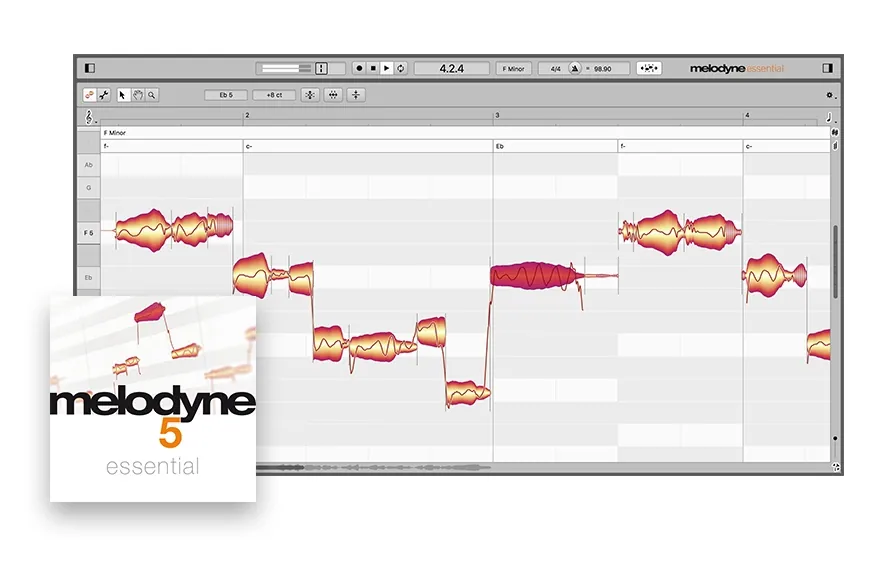 Melodyne is a software application with which you can edit audio in a more musical way than ever thought possible. In Melodyne, you work with notes, not with a meaningless waveform. You can see not only where the music gets louder or quieter, but also where the notes start and end and what pitch they are on.
Note-based audio editing
Melodyne gives you unparalleled access to all the musical details in your recordings and samples – note by note. This is possible through sophisticated analysis that goes deep into your recordings and samples, recognizing and understanding musical relationships in them: individual notes and their characteristics, scales, keys and chords, time, tempo, tone color. And with Melodyne, you can intuitively edit all of these things. Not only vocals, but all kinds of instruments, including polyphonic ones such as piano and guitar.
Notes and Instruments
In Melodyne, notes are represented by blobs. Controlling them with Melodyne's powerful tools, you can edit (among other things) the pitch, vibrato, volume, sibilants, duration, time, and formants of each note. Thus, you can musically and easily improve the intonation, phrasing, dynamics and timbre of your performance. At the same time, ingenious algorithms ensure that your editing will almost always be inaudible, sensitive, natural.
Why Melodyne is better
That Melodyne sounds so good and is so easy to use is based on two things. Less important is technology.
The decisive factor is the understanding of music.
Melodyne identifies notes and links between them. It is only as a result of this knowledge that Melodyne's algorithms are able to "think" and work in this musical way. The benefits for you as a musician and producer include Melodyne's renowned superior sound and many more benefits that software lacking this understanding of musical context cannot offer.
New in version 5.3.1 :
The update to version 5.3.1 contains improvements and bug fixes, so we recommend it to all users.
Pro Tools with ARA: When repeatedly using Melodyne's Undo function, Pro Tools could crash under special circumstances.
ARA and plug-in: Under certain circumstances, not all notes were included in local playback.
ARA: When creating a new DAW project, it would display an error message under certain circumstances, even if the new project was without errors.
ARA: When switching to edit mode from note assignment mode, the display could scroll all the way to the top instead of returning to its previous vertical position.
Studio One: When launching Studio One, it sometimes crashed while scanning the Melodyne plug-in.
Digital Performer: Under rare circumstances, moving blobs could cause a crash.
Samplitude: In Melodyne 5.3, it sometimes happened that ARA files of old projects were cut off during playback.
Standalone Implementation: In note assignment mode, "Convert Selection to Connected Sequence" would sometimes crash.
Standalone implementation and ARA: Very high resolution screens under macOS Monterey in full screen mode could experience crashes.
Keyboard Shortcuts: Assignments for Track and Clip modes were erroneously listed in the Editing Tools section and not in the View Configuration section as they are now.
Keyboard Shortcuts: The Fade Tool and Sibilant Balance Tool now appear directly below the Amplitude Tool to match their location in the toolbar.
Note Assign Mode: Under certain circumstances, when you edited in Note Assign mode, individual notes would not play.
Temporary Grips: When undoing an edit made with the Temporary Grips tool, it sometimes happened that the sound of a note remained unchanged.
ARA: When using the Universal algorithm, sometimes there was a display error (spaces between blobs) when editing blobs.