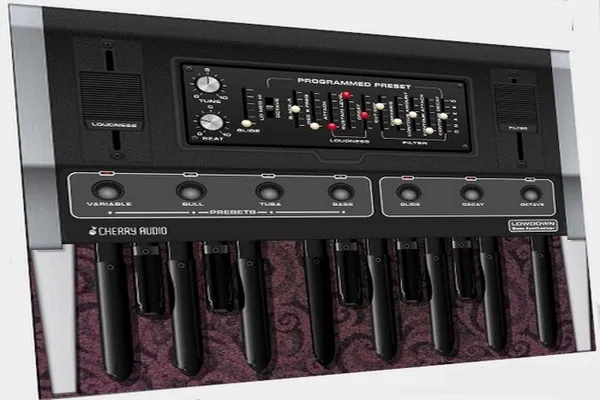 The Lowdown Bass Synthesizer recreates the super fat, room rumbling sounds of the most legendary double oscillator bass synthesizer ever made. Heard on countless prog rock and new wave tracks in the 70s and 80s, this floor pedal monster makes its first appearance on the desktop. DSP Master Mark Barton (MRB) modeled every aspect of the original with exceptional accuracy, from the dual "constant beat" oscillators to the massive ladder filter. Get down to earth with Lowdown!
Description Continued
Aside from a few organ-oriented instruments, the original instrument was the first dedicated foot-operated bass synth and with its colossal tone, undeniably the best sounding. It was used by some of the best bands of the 70s and 80s, including Rush, Yes, Genesis, U2 and The Police (check out the intro to "Don't Stand So Close To Me" or "I Don't" by Phil Collins). worry no more.")
The original design used Hz/V oscillator scaling (as opposed to the more conventional volt/octave oscillator scaling), which allowed the amount of oscillator detuning to remain constant across the keyboard by minimizing the phase compensation that can occur when two oscillators play at the same time. Along with a couple of other engineering tricks, this contributes to its powerful sound.
To create Cherry Audio Lowdown, award-winning synthesizer designer and DSP legend Mark Barton carefully analyzed the original's synthesis circuits and accurately recreated them for huge virtual bass like no other. We absolutely love this fun and easy to use bass guitar and we hope you love it as much as we do!
Features
Accurate virtual analog emulation of the famous monophonic pedal synthesizer.
Every aspect is accurately modeled in great detail with an ultra-realistic interface.
Beyond the Bass: Move the Lowdown from the deep deep end to the soaring leads.
Massive double oscillators.
24 dB/octave low-pass throat filter with Cutoff, Emphasis and Contour controls.
One button access to Bull, Tuba and Bass factory presets.
Variable live panel mode available with one click.
Additional one button controls to activate Glide, Decay and Octave.
Volume and foot filter controls
A recessed panel provides access to programmable functions: Tune, Beat, Glide, Octave, Mix and OSC B Frequency.
Visualized and animated keyboard with pedal.
Choose from 14 floor coverings under the pedals.
Over 40 presets in the extensive preset browsing menu and unlimited user preset storage.
Full MIDI control.
Full DAW automation for all controls.