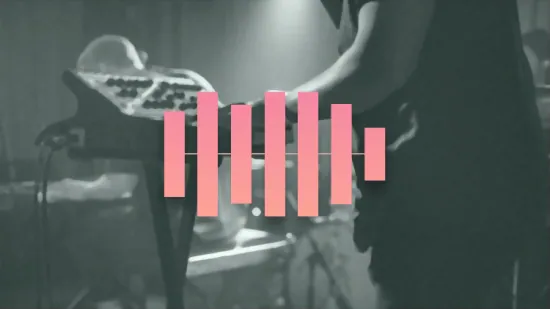 This course is a comprehensive guide to using any synthesiser to design your own unique sounds for music production.
In this course, we look in quite some detail at all the common elements of sound design using synthesisers. Whether you are brand new to synthesis, or an experienced sound designer, beatmaker or producer, this course will help you to really understand how to construct exactly the sound you are looking for for your mix.
With more than six hours of video split across over fifty lectures, you will find detailed descriptions and demonstrations of:
Synthesiser architecture and how the different elements work together.
Why the various wave shapes generated by oscillators create a different sound, and how to use them in combination.
How to use ADSR envelopes to modulate the volume of your sound over time.
The different types of filters commonly used and how to apply them to create the perfect tone.
How to add movement and depth to your sounds.
How to add effects such as chorus, distortion, delay and reverb to make your sounds more interesting.
Once you have finished these comprehensive sections and gained a deep understanding of exactly how every individual element of a synthesizer affects the sounds we are creating, we will use this knowledge to build several new sounds from scratch, including:
Sub-bass
Plucked bass
Atmospheric and ethereal pads
Leads
Percussion, including hi-hats, kick drums, and snares
Piano-like keys
We'll be using the free Vital synth throughout the course so you can follow along, but towards the end we'll spend some time looking at other synthesisers and see how to apply what you've learned to quickly get to grips with ANY synth and know exactly how to use it to get the sounds you need for your compositions.
No previous knowledge of synths or sound design is necessary, but access to a computer will enable you to follow along. The main synth used for teaching on the course (Vital) is available as a free download and will run on most modern Windows, Mac or Linux machines.
Thank you for taking a moment to check out my course. I know you will love it!
So, join in and learn the art of sound design for music production using synthesis to create any sound you can imagine!
Content
1. COURSE OVERVIEW (2:02)
2. INTRODUCTION (2:07)
3. GETTING THE MOST FROM THE COURSE (1:41)
4. GETTING THE VITAL SYNTH (3:18)
5. INITIAL SETUP OF VITAL (2:13)
6. TYPES OF SYNTHESISER (3:34)
7. SYNTHESISER ARCHITECTURE (1:33)
8. INTRODUCTION TO OSCILLATORS (0:51)
9. THE OSCILLATOR (VCO) (5:31)
10. BASIC WAVE SHAPES (6:13)
11. EXPLORING FUNDAMENTALS AND HARMONICS IN WAVE SHAPES (12:36)
12. OSCILLATOR LEVEL AND PAN (3:45)
13. OSCILLATOR TUNING (4:28)
14. OSCILLATOR UNISON AND PHASE (7:25)
15. USING MULTIPLE OSCILLATORS (12:08)
16. THE NOISE GENERATOR (3:31)
17. AMPLIFIER VOLUME AND VOICES (9:23)
18. PITCH BEND, SPREAD & VELOCITY TRACKING (5:01)
19. GLIDE (6:51)
20. INTRODUCTION TO ADSR ENVELOPES (7:22)
21. DESIGNING ENVELOPES (13:57)
22. USING ENVELOPES (9:14)
23. INTRODUCTION TO FILTERS (8:41)
24. FILTER TYPES (11:31)
25. RESONANCE (2:17)
26. DRIVE, MIX, KEY TRACKING & ROUTING (5:53)
27. COMB FILTERS (4:55)
28. COMBINING FILTERS AND ENVELOPES (4:01)
29. INTRODUCTION TO LOW FREQUENCY OSCILLATORS (LFOs) (6:58)
30. USING LFOs (4:17)
31. LFO SHAPES (2:58)
32. LFO FREQUENCY (2:00)
33. MORE USES FOR LFOS (4:44)
34. LFO MODES (6:14)
35. SMOOTHING, DELAY & STEREO (3:58)
36. DESIGNING CUSTOM LFO SHAPES (12:21)
37. INTRODUCTION TO EFFECTS (2:58)
38. CHORUS (3:44)
39. COMPRESSION (2:23)
40. DELAY (3:39)
41. DISTORTION (4:29)
42. EQ (2:24)
43. FILTER (0:18)
44. FLANGER AND PHASER (1:13)
45. REVERB (3:25)
46. STACKING EFFECTS (3:33)
47. WRAPPING UP (4:50)
48. SOUND DESIGN: SUB BASS (6:08)
49. SOUND DESIGN: PLUCKED BASS (7:32)
50. SOUND DESIGN: ATMOSPHERIC PAD (16:08)
51. SOUND DESIGN: 80s LEAD (12:39)
52. SOUND DESIGN: HI-HAT (9:17)
53. SOUND DESIGN: KICK DRUM (14:26)
54. SOUND DESIGN: SNARE DRUM (18:41)
55. SOUND DESIGN: KEYS (SYNTH PIANO) (23:54)
56. SYNTH 1: TAL NOISEMAKER (10:37)
57. SYNTH 2: LOGIC RETRO SYNTH (10:29)
58. SYNTH 3: CHERRY AUDIO MEMORYMODE (MOOG MEMORYMOOG) (18:55)