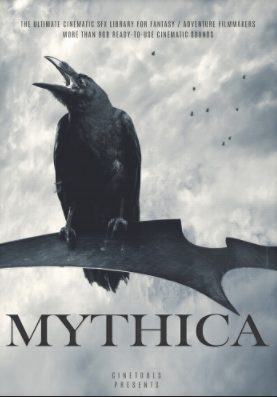 The Middle Ages are calling! Grab your ax, plunge into the battle of antiquity and dispel enemy attacks to protect your blessed lover! Cinetools is proud to present "Mythica", full of high quality cinematic sound effects, bringing everything to your medieval fantasy world to life. Heroism, Mystery, Adventure and Combat are the main components of this gigantic library.
This library provides a solid foundation of 1,092 cinematic sound effects to give your project an authentic medieval feel. Everything is here to help you add the epic and moving sounds you need for today's projects … From inspiring and enchanting trailer start signals to ancient combat sounds, impressive war chants and deepest breaths, tense atmospheres and fantastic landscapes, drum beats and epic cinematic percussion loops, synthetic and sequenced impulses for combat strikes, after combat atmosphere to heartbreaking melody, screams and shouts to medieval lamentations, giant cinematic beats to deep beats, organic whistles to bloody bass,
More details
In detail, expect to find 9.6 GB of high quality sounds, including 1,092 ready-to-use cinematic SFX, split into two main folders, Designed SFX and Designer Tools. The Designed SFX folder contains 730 created sounds, including 66 atmospheres, 31 basses, 35 creatures, 40 Cue Starters, 18 Downers, 49 drums, 104 beats, 79 melodies, 54 organic sibilants, 12 sounds, 46 pulses and patterns, 43 Risers and Suckbacks, 35 stingers and markers, 118 vocals, contain 18 breaths, 10 chops, 48 ​​phrases, 17 battle screams and 25 words. Each sound in the folder is recorded in 24-bit / 192 kHz format, designed and transmitted in the standard 24-bit / 96 kHz format to provide the highest quality for today's cinematic needs.
Designer Tools includes 362 sounds, contains various types of materials that allow you to be creative and help you create your own unique sounds from scratch or update existing ones. Just feel free to experiment to achieve impressive sounds, the options are endless … All sounds in this folder are incredible 192 kHz / 24-bit sampling rates to provide the best possible quality for extreme pitch shifting and effects processing while maintaining the highest levels of clarity and fidelity. Recorded with Rode NT1, Rode NTG-3, Rode NT4, Rode NTG-8, Audio Technica BP4025, AKG C411 PP, Zoom F8, Zoom H6, Tascam DR-44WL.
Whether your project is a legendary adventure, ancient war stories, or an addictive battle game, this pack is a great addition to the epic experience. It is also a good source for any genre of fantasy, adventure and action fantasy scenes or projects, and works well for many other situations where cinema-standard sound is required.
Content
1092 Files
24 Bit / 96kHz (Designed SFX)
24 Bit / 192kHz (Designer Tools)
730 Designed SFX
362 Designer Tools
066 Atmospheres
031 Basses
035 Creatures
040 Cue Starters
018 Downers
049 Drums
104 Hits
079 Melodics
054 Organic Whooshes
012 Pings
046 Pulses and Patterns
043 Risers and Suckbacks
035 Stingers and Markers
118 Vocals
018 Breaths
010 Chops
048 Phrases
017 War Shouts
025 Words