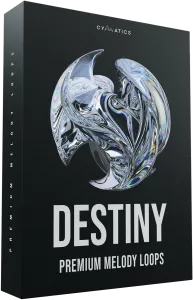 Cymatics – DestinyPublisher:
Cymatics Site:
Cymatics Format: MIDI, WAV
Quality: 24 bit 44.1 kHz stereo———————————————-Description: Destiny – sample library, fully focused on modern melodies to create hits + creative video course on creating top melodies

Content
Destiny: Melody Loops – $297
Infinite: Guitar Loops – $67
Nirvana: Vintage Melodies- $75
Destiny: Mystery Expansion – $67
Space: Reverb Plugin – $50
Destiny Melody Creation Course – $97———————————————-Destiny: a new wave of Cymatics melodiesDestiny is completely focused around melodies for making hit songs.
No fluff or filler loops – every sample has been carefully curated
by the Cymatics team. Youll find tons of inspiring melodies and unique vibes inside
Destiny, with 250+ loops including their tracked-out stems and MIDI.Not to mention, there's 10 different style categories of melodies
inside, giving you tons of variety to work with when creating your
next big record. Melody styles included:Brass, Drill, Hyperpop, Reverse, RnB, Trap, Various, Virtual, Wavy,
WorldBONUS #1Infinite: Guitar LoopsSince our guitar packs have been so popular lately, we decided to
include a brand new one with Destiny.These melodies are all perfect for creating radio sounding hits,
inspired by big artists like Iann Dior, 24kGoldn, Trippie Redd, &
more. Inside, there are 75+ different guitar samples with stems included. BONUS #2Nirvana: Vintage MelodiesNirvana was inspired by our last melody project, Zodiac, with its
unique & vintage sound. Youll find tons of incredible samples inside, processed and
created using our team's collection of analog gear. These melodies are exactly what you want if you're looking to
create timeless sounding tracks. BONUS #3Destiny: Mystery ExpansionFor Destiny, we created an exclusive Mystery pack with tons of
special surprises. The Mystery pack will include exclusive Cymatics sounds and
presets that you won't be able to get anywhere else. BONUS #4 (NOT INCLUDED)Space: Reverb PluginEveryone who gets Destiny will receive our new plugin Space
for free! Space is a one of a kind reverb with special FX, a distortion
module, and a reverse switch. It may look simple, but this plugin
has a powerful sound. This plugin is perfect for pairing with the melodies included with
Destiny to customize them further. BONUS #5 (NOT INCLUDEDDESTINY Collector's Edition USBs250 DESTINY Collector's Edition USB will be given out on a first
come, first serve basis. Were going to be giving away an exclusive Collector's Edition
Destiny USB to the first 250 producers who get a license! These will come loaded with a special surprise that only those
250 people will receive. BONUS #6Destiny Melody Creation CourseWant to learn how to make melodies like Cymatics? Our best producers that worked on Destiny created a video course
to show you the secrets behind how we write our placement ready
melodies. Enrollment to this video course is included free only for the
2500 people to get Destiny.Destiny Platinum ExpansionWhat is the Destiny Platinum Expansion? Complete the Destiny experience with this premium expansion
pack! Our team spent some extra time putting this premium expansion
pack together, to pair perfectly with the rest of the amazing
melodies in Destiny.With this Platinum Expansion, you'll get exclusive access to
even more placement ready melodies that we've been saving for
something special. Not to mention, this entire expansion pack includes original
stems / MIDI for each melody loop. Take advantage of this one-time opportunity to get the Destiny
Platinum Expansion while you still can!