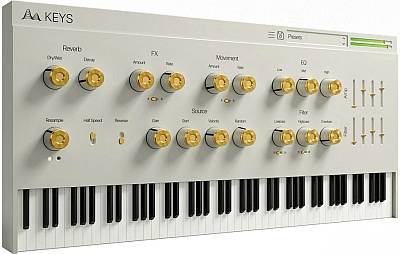 Introducing KEYS: Your Ultimate Keyboard Instrument Plugin
At Cymatics, we embarked on a mission to craft a plugin that encapsulates the essence of our favorite keyboard instruments, the very ones we rely on to create the iconic sounds featured in our Cymatics samples. The result of our labor is KEYS, a plugin that brings together a curated selection of keyboard sounds, with no room for unnecessary clutter—only the sounds we cherish and would want to use daily.
Why Choose KEYS?
🎹 100+ Solid Gold Presets: Dive into a treasure trove of over 100 meticulously crafted presets that exude sonic excellence. Each preset is a golden nugget, ready to elevate your music production.
🎛️ Advanced Sound Customization: Unleash your creativity in the advanced section, where you can sculpt and mold your sounds with an array of tools. Experiment with reverb, effects, resampling, downsampling, reverse, filters, and more. Design your unique sounds from the ground up.
🎵 Top-Tier Presets: Cymatics has earned a reputation as one of the premier preset creators in the music industry, and KEYS lives up to that standard. Explore a diverse range of ready-made presets, thoughtfully categorized into Classics, Piano, E-Piano, Lofi, Reverse, Synth, World, and beyond. There's something for every musical style.
What Sounds Await You in KEYS?
When you dive into KEYS, you'll be greeted by a stunning array of sounds that includes:
🎹 Classic Electric Pianos: Experience the timeless charm of Rhodes and Wurly electric pianos.
🎶 Grand Pianos: Immerse yourself in the rich, grandiose tones of pianos recorded live.
🎹 Vintage Synthesizers: Transport your music with vintage synth sounds that harken back to the analog era.
🌍 Unique Instruments: Explore the distinctive timbres of instruments like the kalimba and reed drums.
Future-Ready with KEYS Extensions
But that's not all; we have exciting plans for KEYS' future. Expect free KEYS extensions that will expand your sonic palette and keep your music production fresh and dynamic.
Vintage-Style Effects Included
The included effects in KEYS pay homage to vintage hardware, offering you an authentic and nostalgic touch. Experiment with chorus, reverb, pitch movement, tremolo, and more to infuse your sounds with character and depth.
Realism at Its Best
Every sound in KEYS was meticulously recorded from scratch. Whether it's pianos, Rhodes, vintage synths, or diverse world instruments, we've captured their essence. We used multiple layers of velocity to recreate the nuances and dynamics of these instruments, giving you a truly authentic playing experience.
Unique Soundscapes Await
We didn't stop at conventional sounds. KEYS is a playground for innovation, where we've fused different instruments to birth entirely unique and never-before-heard sounds. One example is a mesmerizing sound created by blending kalimba, reed drum (African tone drum), and sine waves.