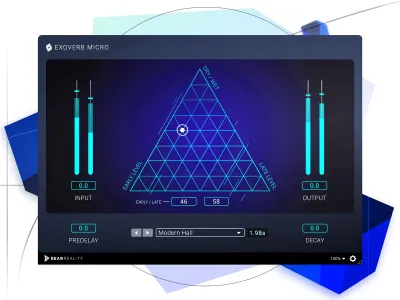 Free Download EXOVERB MICRO by Dear Reality, Version 1.2.0 as an Offline Installer. EXOVERB offers 50 realistic-sounding acoustic scenes with unheard-of 3D depth and width.
Overview of EXOVERB MICRO:
Enhance your stereo mix with EXOVERB MICRO's realistic and spacious reverb. This compact audio plugin packs a punch, powered by the same proprietary reverb engine as its big brother EXOVERB. Choose from 8 professionally created acoustic stages for truly authentic sound in modern audio production. Streamline your mixing process with an intuitive triangle pad that perfectly balances late reverb, early reflections, and dry signals.
Features of EXOVERB MICRO:
Main Characteristics:

50 acoustic scenes that will make your tracks shine!
Enhanced Spatial Perception: EXOVERB provides a unique spatial perception of distance based on the basics of spatial hearing. Choose from 50 custom acoustic scenarios from four categories: Ambiences, Rooms, Halls, and Plates.
Enjoy realistic reverb sound with a 3D soundstage in speakers and headphones.
Intuitive hitting the sweet spot Triangular Pad: The EXOVERB triangular pad makes it easy to create the perfect combination of reverb, early reflections, and dry signal.
Determine the ratio of early reflections and late reverbs on the x-axis. The y-axis determines the level of your dry and processed signal.
Go Beyond 2D Stereo
Direct Control:

EXOVERB follows Dear Reality's easy-to-use approach by providing direct access to frequently used functions such as Pre-Delay, Size, and Decay.
By default, EXOVERB gives a greater sense of depth with natural spatial separation. Using the Depth and Width parameter, you can further adjust the space between the front and back of your mix to enhance the acoustic illusion in stereo recordings based on human hearing at a distance.
Customize Your Mix:

Universal EQs: EXOVERB offers three simple 3-band EQs giving you maximum flexibility to tailor tonal character to your mix. Apply separate low-pass, parametric, and high-pass filters to early reflections, reverb, or sum signal to get the right reverb tone for your tracks right from the plugin.
Technical Details & System Requirements:
Format

 : VST3, AAX

Bit depth

: 64bit

System requirements

: Windows 10 – 11
Resizable GUI