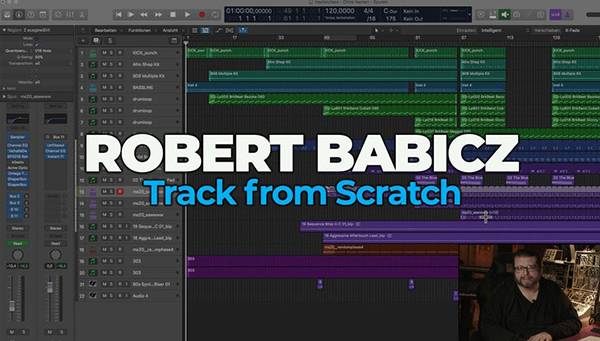 Polish producer Rob Acid has released many influential techno records on various labels.
Born in Nemodlin, Poland, Robert Babić's mastering engineer and live performer under his most famous and successful pseudonym, Rob Kisis, has released a number of influential techno records that have helped him become one of the country's leading techno producers.
With a career spanning nearly three decades spanning genres from techno to acid house to minimal, Robert has also been known by the aliases Rob Acid, Acid Warrior, Department of Dance and Sontec, among many others. He has released many respected records on labels such as Systematic, Kompakt, Bedrock, Intec Digital and Steve Bug's Audiomatique, as well as on his labels Babiczstyle and Dirtcuts. Also, Robert is well known as a live performer, not a DJ, as he uses synthesizers and live gear, improvising in every set he plays.
Over the course of almost four and a half hours, Robert will guide you through his production process, creating the new track "Babiczstyle" from scratch. Throughout this course, you'll learn how to turn a song from a set of loops into a finished idea, how to mix and master your own tracks, and how to take some time to sit back, relax, and just listen.
Chapter 1 – Introduction
Chapter 2 – Building the Beat
Chapter 3 – More Layers & FX
Chapter 4 – Creating Movement
Chapter 5 – Adding Further Elements
Chapter 6 – Snares & Strings
Chapter 7 – Arrangement – ​​Introducing Layers
Chapter 8 – Arrangement – ​​New Sounds
Chapter 9 – Textures & Playback
Chapter 10 – Bus FX & Automation
Chapter 11 – Arrangement – ​​Drop & Outro
Chapter 12 – Master Bus EQ & Basic Mastering
Course Clip- Creating Basslines
Course Clip- Feeling The Music
Course Clip- Using Multiple Compressors
Course Clip- When And Why Compression
There are project files for Logic Pro. I had to archive (in zip) because the client crashed when creating the torrent file.
Sample files : Not provided
Video format : MP4
Video : AVC, 1920×1080, 16:9, 25 fps, 4000 kb/s
Audio : AAC, 48 kHz, 192 kb/s, 2 channels