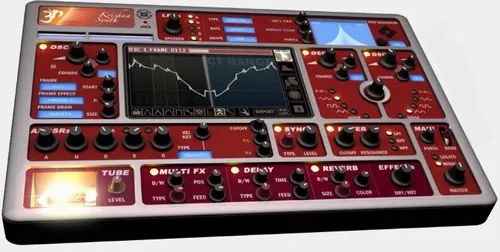 Unleash your creativity
Originally released in 2007, KrishnaSynth returns as one of the most versatile and musical synthesizers.
This powerful instrument contains over 1000 amazing acoustic, electric and synth sounds and comes with original synthesis functions, giving you the power to create any sound you can imagine!
Frame Synthesis technology allows you to import, create and modify textures from sampled instruments and synthesizer waveforms, creating virtually any texture using the unique Frame Oscillator and a comprehensive set of DSP functions and effects.
This synthesizer has been rewritten and now meets modern requirements.
Main characteristics
GRITTINGESS : Get
higher on the pads, this synth sounds different, richer, more amazing. Old but unique.
FAT :
Frame analysis technology will allow you to import any type of sound, from violin to electric guitar or speech to drum loop, and recreate the logic animation of a sequential waveform.
UNIQUE :
FAT Oscillator, LFO Speeder, Frame effects, drag & drop assignment, visual feedback for all modulations, quick access to all sync types, up and down portamento multiplier, true legato with note ordering, etc… some of these features are unique today.
DROP AUDIO :
Select any audio and drop it on the synthesizer, a new texture will be computed ready to be played. Unlike modern FFT analysis, FAT will use waveforms to create an oscillator, resulting in its specific sound.
LFO ON LFO :
Krishnasynth allows all kinds of LFO assignments, the speed on LFO B can be controlled by LFO A, always in the correct order. LFO speeder is a simple and effective macro that allows you to create any kind of expression over time.
WARM AND CRAZY :
Many presets are unique and can sound too crazy, even soft. But it does not matter.
Installation and registration instructions
1: Run Setup FKFX Emulator v1.0.0.
2: Copy VST2 or VST3 from VSTi folder and paste it into plugins directory.
3: Open the plugin in your DAW and drag the KrishnaSynth Legacy Data.zip file into the main plugin window.
4: A login window will open – go to C:\Program Files\TEAM R2R\FKFX Emulator and read the Manual.txt file for login information.