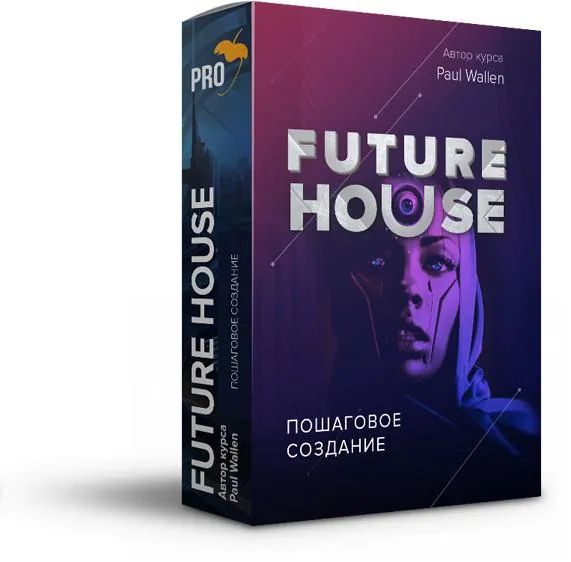 You will take on armament ALL CHIPS AND PRINCIPLES in creating the first most popular dance genre today.
The future of House electronic music genres is now laid out for you in the simplest stages, so that you can finally realize all the accumulated demos in explosive Future House drops.
Here, in a course lasting more than 10 hours, we will create not just a template Future House composition, but several variations of unique arrangements of a specific vocal idea, so that you do not just repeat after me the creation of a particular track, but learn all the
many principles in the production of this amazing genre of Future House.
And all this, from creating a kick and drum part to detailed mixing and final mastering of a full-fledged track.
Sample files : present
Video format : MP4
Video : AVC, 1920×1080, 16:9, 50fps, 11.4 Mb/s
Audio : AAC, 44.1 kHz, 318 kb/s, Stereo
Section #1
Sketching the idea. Harmony and main melody.
1.0. Introduction and history of the genre
1.1. Preparing the sequencer
1.1.2 [BASIC] How to work more efficiently in FL Studo 20 (12) (Abbreviations and hotkeys)
1.2 Choosing the right instrument to implement the idea
1.2.1 [BASIC] Synthesizing from scratch Don Diablo Lead (Sylenth1, Spire, Serum)
1.3 Creating a chord progression and rhythmic structure
1.4 The main trio of elements to implement your idea
Section #2
Trial structures. The best method to quickly and productively write a complete track from scratch.
2.1. Bass layering and simplified drop modulation
2.2. Creating a melody for harmony and lead layering
2.3. Stack Layers! Good layering is the key to tight sound
Section #3
Arranging the Breakdown. Melodic flight and paint ideas.
3.1. The birth of Breakdown and adjusting the vocals to the key and tempo
3.2. Development of tools and creation of effects in Breakdown
3.3. We create the Bridge part and build the overclocking Buildup after
3.4. Putting together a batch of Intros \ Intros from nothing
Section #4
Future House drop arrangement.
4.1 Upgrading the drop with effects and necessary tools
4.2 The second part of the drop and how to form it so that it is not boring
4.3. Transition to the next stage of the composition
4.4. Collecting Fill fills on Pre-Drop and Drop transitions
Section #5
The second part, information and improvements.
5.1. Building an alternative part of the composition
5.2 Finalizing the arrangement and structure
5.3 Mixing all the elements (Mixing Stage)
5.4 What to do on the Master
Section #6
[BONUS]
6. [BONUS] Quality and bold vocal mixing in EDM
WHAT MUSICIANS THIS COURSE IS AIMED FOR:
– Beginners
The course is also aimed at the most novice FL Studio users, many points are explained in detail and from scratch.
– Fans
Videos explaining the most basic things are marked as "BASIC" in the course, so you can skip them if you understand.
– Any sequencers
The production course is universal and if you understand your sequencer, you can adapt the actions from the course in it.
And, of course, this course is addressed not only to those who want to learn how to make explosive tracks in the Future House genre, but also to fans of the entire spectrum of modern EDM genres: Progressive House, Deep House, Electro House, G-House and Future Bounce
THIS COURSE IS A COMPREHENSIVE LEARNING DEVELOPING THE FOLLOWING SKILLS:
– Arrangement in two perspectives (combinations and development of instrumental parts)
– Synthesis and sound design of the main categories of sounds
– Working with vocals for Future House styles
– Processing and mixing in the form of fundamental foundations and professional details
– Mastering and its genre features in Future House and Future Bounce
THIS IS WHAT YOU WILL BE ABLE TO AFTER VIEWING THE COURSE:
– Quickly and productively write many catchy melodies and chord progressions in the harmonic and rhythmic traditions of Future House
– Realize your ideas and melodies even in the most complex Future House arrangement structures
– Adequately select instruments and sounds + implement layering professionally so that your sound is no worse than the top artists of the genre
– Mix even a large number of instruments and their layers with high quality so that the tracks sound tight, wide, rich and loud