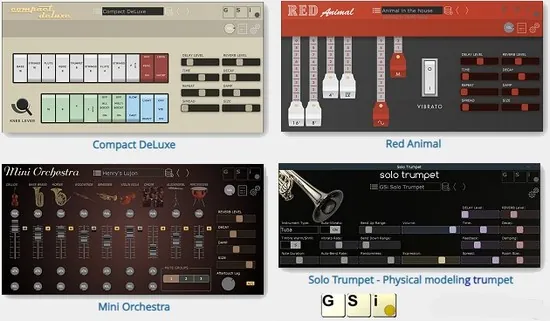 GSi is the acronym for Genuine Soundware and instruments – All started in 1999 out of a passion for music and sound.
Continuous research into the physical modeling of sound synthesis and other forms of artificial
sound generation has continued over the past decade and has led us to know-how and cultural baggage,
on which we can count at the present time, and it will continue forever and always!
Today GSi is a professional company capable of offering studio quality products and services at
affordable prices for the benefit of everyone.
Collection Description (all names are clickable, with offsite links)
Compact DeLuxe
 : Replicas of the Italian Farfisa Compact DeLuxe transistor organ, also known as a one-handled version of the most famous Compact Duo.
Mini Orchestra
 : A sample-playing synthesizer based on a selection of high-quality, long-loop stereo samples that helps you easily and quickly reproduce the sound of a symphony orchestra.
Red Animal
 : Replicas of the famous Vox Continental transistor organ by recreating the same electronic circuitry based on the TOS (higher octave synthesizer) circuit and all frequency dividers down to the key contacts and pedalboard tones.
Solo Trumpet
: Emulation of the physical simulation of the pipe. This chapter of GSi started a long time ago with the release of one of the first plug-ins, then it grew into the updated emulation introduced in the GSi Gemini, and now it's back here with a new plug-in.