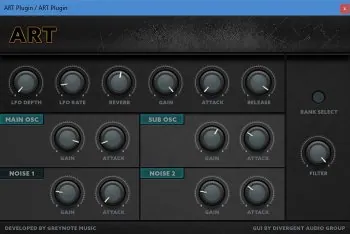 Greynote Music ART plugin is an analog synth romler plugin with 28 original patches.
Each patch contains fully multi-sampled one-shots, up to 6 seconds per note, created using the Waldorf Pulse 2 Synth.
Sample playback varies from MIDI note C1 – C8.
The ART plugin includes round functions for playing fragments and noise generators for noise and auxiliary generators.