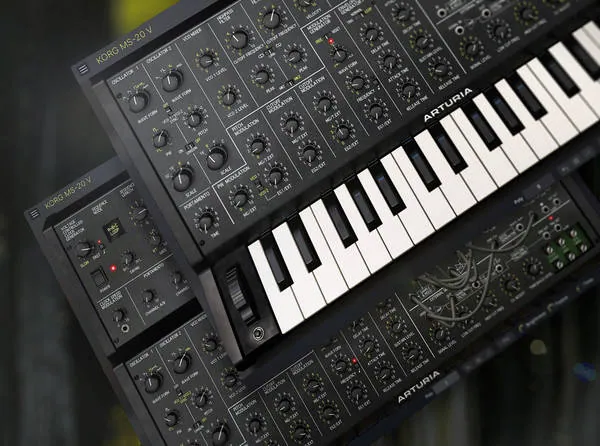 There's nothing like the sound of an analog synthesizer, and with the Korg MS-20 V, Arturia has recreated one of the giants and made it available to everyone. In this 90-minute Arturia Korg MS-20 video course, virtual instrument guru Tyler Coffin takes you through all the features of this sonic tour de force, top to bottom. You'll learn all about the oscillators, modulators, sequencer, effects, and more – everything you need to start using this plug-in in your own productions! These videos are for new MS-20 V users.
Tyler welcomes you with a bit of history and background information on the MS-20 to whet your appetite before getting underway with an overview of the plug-in's interface and general layout. Then it's on to the heart of any synthesizer: the oscillators. Discover which oscillators are available, how to tweak them to achieve various sounds, and more. Then explore the famous filter section: one of the keys to the MS-20's signature sound.
Next, check out the myriad possibilities that exist within the modulation section and learn how these can affect the sound in nearly countless ways. Also learn how the semi-modular aspect of the original MS-20 is preserved in the MS-20 V by way of the Patch Panel: a virtual patch bay that allows you incredible flexibility with regards to signal routing and sound design.
Other topics include: the Sequencer Panel, the Effects Panel, the Browser, preset management, and more. Then follow along as Tyler demonstrates how to design three signature sounds from the ground up: bass, lead, and pad!
Check out the descriptions below for more information on what each Korg MS-20 V video tutorial covers. Thanks to Arturia, you don't have to drop thousands on a vintage unit to get the famous MS-20 sounds, but you do need to know how to use it, and that's where this video course comes in! Take command of your analog synth sonic exploration… Watch "Arturia Korg MS-20 V Explained®" now!
Content
1. Introduction & Overview (2:31)
2. User Interface & Basic Operation (6:05)
3. Oscillator Section (3:42)
4. Filter Section (3:39)
5. Modulation Section (6:32)
6. Patch Panel (13:51)
7. Sequencer Panel (8:32)
8. Effects Panel (11:24)
9. Preset Management & Browser (5:30)
10. Sound Design Example: Bass (4:37)
11. Sound Design Example: Lead (7:00)
12. Sound Design Example: Pad (10:21)
13. Review & Conclusion (3:42)