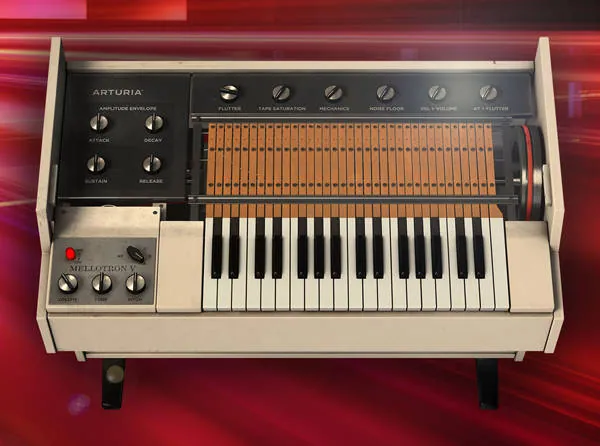 Virtual instrument wiz Tyler Coffin presents comprehensive Arturia Mellotron V video tutorials! If you'd like to add this instrument's authentic collection of flutes, choirs, strings and other classic Mellotron tones to your tracks, you need to watch this course! Tyler guides you through the plugin's basics and then works through the more advanced features and functions, providing lots of tips along the way on sound design and more. These videos are for new Mellotron V users.
Tyler welcomes you and then begins with a broad overview of the plugin as well as some history on the original unit. After getting familiar with the layout and organization, you'll discover the Control Panel, where you can access the overall parameters for controlling the instrument.
Next, explore the Advanced Control Panel, with which you can assign specific keyboard ranges, edit samples, and more. With these controls, you can even treat Mellotron V similarly to a more modern sample library, if you choose, for increased versatility.
Throughout the rest of the course, you'll explore the remaining features of the instrument, including the effects (chorus, flanger, compressor, phaser, delay, distortion, reverb, and others!), the Preset Manager/Browser, and more. Tyler brings it to a close with some tips on sound design – including several specific examples – as well as some closing thoughts on everything covered.
To see exactly what's contained in these video tutorials, and how they'll make adding vintage Mellotron tones to your productions easy and fun, see the individual Arturia Mellotron V video tutorial descriptions on this page. Give your tracks a dose of vintage goodness… watch "Atruria Mellotron V Explained®" now!
Content 
1. Introduction & Overview (3:22)
2. User Interface & Basic Operation (6:31)
3. Control Panel (4:52)
4. Tracks & Sample Editing Pages (11:07)
5. Effects (13:17)
6. Preset Management & Browser (5:10)
7. Broad Sound Design Concepts (6:53)
8. Sound Design Examples (9:05)
9. Review & Conclusion (3:17)