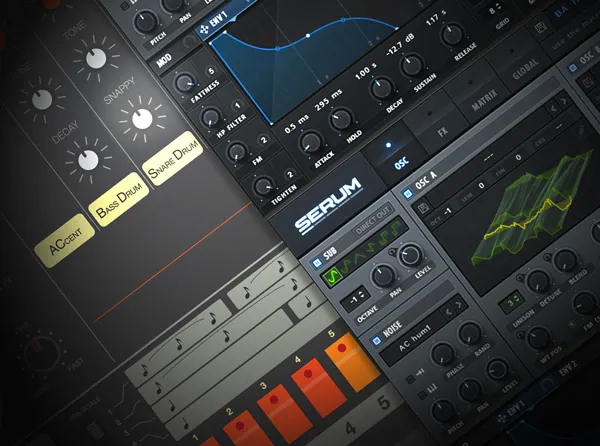 Synthesizer wiz Thomas Cochran brings you in-depth sound design videos on crafting powerful, modern sounding drums for your tracks and productions. See how to make foundational sounds perfect for different popular genres, plus get the presets made throughout the videos for reference. These videos are for those who already have an understanding of synthesis and the terminology used when working with synths.
These drum synth sound design videos are shown using Xfer Serum, one of the most popular virtual synth instruments available today, but the info can be applied to practically any virtual or hardware synth. Thomas also uses some 3rd party effects including the NI Transient Master, FabFilter Saturn 2, Pro-EQ, Pro-R, and the Infected Mushroom Pusher, but you can supplement these plug-ins for any other similar plug-in and get the same results.
Thomas welcomes you and starts with a video tutorial on the all-important kick drum. Here you'll see what you need to know to craft huge sounding kicks by utilizing envelope shaping, oscillator layering, distortion, sample layering, multi-band processing, and more. The snares are next, and you'll discover how to make from scratch a simple snappy snare inspired by the legendary Roland TR-808, how to give your snares that classic vintage snap, as well as make snare drums that are perfect for Experimental Bass and Drum & Bass by utilizing transient shaping and distortion for that additional "punch".
Throughout the rest of the videos you'll watch how to design hi-fi Clap sounds, 808s, Crash Cymbals, Hi-Hats, and more all from a blank patch. After watching you'll have a grasp on how modern drum sounds are formed and manipulated, and have that professional full, powerful sound.
To see what these comprehensive drum synth sound design tutorials show you, and how they'll teach you to build powerful, hi-fi drums sounds from scratch, see the individual drum synth sound design video tutorial descriptions on this page. Start making drum sounds that are perfect for modern electronic genres like Trap, Synthwave, Experimental Bass, Drum & Bass, House and others now… Watch "Modern Synthetic Drum Sound Design Explained®" today.
1. Trap Kick Pt. 1 (12:26)
2. Trap Kick Pt. 2 (7:29)
3. Layered Kick (12:58)
4. Dance Kick (12:53)
5. 808 Type Snare (16:38)
6. Synthwave Snare Pt. 1 (8:22)
7. Synthwave Snare Pt. 2 (9:17)
8. Experimental Bass Snare (15:28)
9. 808 Clap (13:27)
10. Hi-Hats (11:59)
11. Clean 808 (16:03)
12. Distorted 808 (9 :39)
13. Crash Cymbal (14:47)