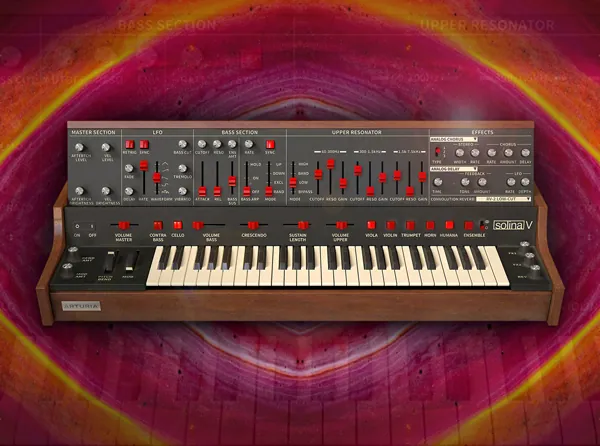 Softsynth expert Tyler Coffin presents comprehensive Arturia Solina V video tutorials! If you want to add some classic string pad warmth to your productions, Solina V is a tough value to beat, but it can do much more as well! This video course will help you utilize this expressive instrument to its fullest! Tyler takes you through the basics and then explores some more creative applications, culminating in a few sound design examples highlighting what this thing can really do! These videos are for new Arturia Solina V users.
Tyler welcomes you and begins with a bit of history and background on the original Solina String Ensemble, so you'll better know what Arturia is aiming to replicate here. The interface is covered next, along with the basic operation and general layout. You'll then dive into the main controls and begin tweaking the basic tones; let the fun begin!
Next, explore the Open Mode, where you have access to the more advanced parameters that really allow you to shape your sound with more precision. Tyler also covers the two effects slots, which appear at the end of the signal path, and demonstrates the types of effects available.
Throughout the rest of the course, you'll learn about the Preset Browser (and preset management) and some general sound design concepts (concentrating on sounds for which the Solina V is well-suited), before embarking on several sound-design examples: Bass, Strings, Lead, and Pad!
To see exactly what's contained in these in-depth Solina V tutorials, and how they'll have you creating inspiring string patches and more in no time, see the individual Arturia Solina V video tutorial descriptions on this page. Add some much-needed lushness to your tracks … Watch "Arturia Solina V Explained®" now!
Content
1. Introduction & Overview (3:25)
2. User Interface & Basic Operation (8:32)
3. Main Controls (6:17)
4. Open Mode1 (1:54)
5. Effects (8:33)
6. Preset Management & Browser (5:55)
7. Broad Sound Design Concepts (5:46)
8. Sound Design Example: Bass & Strings (6:07)
9. Sound Design Example: Lead & Pad (9:07)
10. Review & Conclusion (3:22)