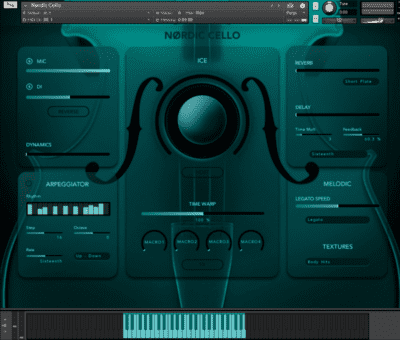 Cello for your creativity.
A new sample library that offers full reproducibility, hyper-realism and many creative applications.
TECHNICAL SPECIFICATIONS:
MIC OPTIONS:
Stereo MIC
DI
BUILT-IN EFFECTS AND CONTROLLERS:
ICE: it blends multiple samples for big, cinematic results
Time Warp: it time stretches textures, transitions and some articulations
Arpeggiator (5 arpeggiation modes, up to 32 steps and 4 octaves)
Reverse Effect
Dynamics Control
82 Convolution Reverbs/IR Effects
Top class Delay algorithm
6 additional FX (EQ, Compression, Saturation, Chorus, Phaser, Leslie) with 3 controls each
4 FX Macros
Sample and Loop Drag&Drop Slot
ADSR Envelope Controls on imported samples
Legato Speed
8 GB of RAM or more is highly recommended. You need to be able to run Kontakt Full Version 6.5.2+.
Sample resolution: .ncw format
Size:
14.16 GB (Uncompressed file)
PATCH/ARTICULATION LIST:
MELODIC:
True Legato
Harmony of the North (5 keyswitches: Vibrato – Harmonics – Still Water – Hendrix – Crescendo)
Staccato (5 keyswitches: Nordic Stacc – Harsh Stacc – Spiccato with Bow Tip – Alter Ego – Fast Crescendo)
Pizzicato (6 keyswitches: Long Pizz – Short Pizz – Pizzicato Harmonics – Vibrato Pizz – Slap – Fret Noises & FX)
Tremolo
Sliding Fourths
Sliding Down (5 keyswitches: Descending 5ths, Descending min6ths, Descending maj6ths, Descending Major Chords, Descending Minor Chords)
Mixed Articulations: (6 keyswitches: Legato – Stacc – Long Pizz – Short Pizz – Pizz Harmonics – Tremolo)
TEXTURES:
Body Hits
Bow Textures
Low Engines
Rises
Bouncing
System requirements:
Requires full version of KONTAKT 6.5.2+
Approx. 15 GB free hard drive space
8 GB of RAM or more is recommended
Please note: this bundle will not work in Kontakt Player