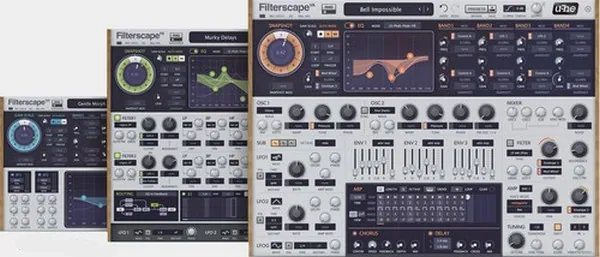 Prepare to take your music production to new heights with Filterscape 1.5, a trio of plugins that redefine sound manipulation through a unique morphing equalizer. Dive into a world of creative possibilities and effortless sound shaping with these cutting-edge tools.
Features:
Revolutionary Equalizer: All three plugins are built around a characteristic equalizer that seamlessly transitions between 8 distinct snapshots. This equalizer allows you to dynamically modulate the frequency and amplitude of each EQ band, offering unparalleled flexibility and control. What sets Filterscape apart is its ability to source modulation from various inputs for each snapshot, allowing for truly unique soundscapes.
Sleek Modern Design: Experience Filterscape with its brand-new design, meticulously crafted for a more attractive and user-friendly interface. The sleek and forward-looking design enhances your workflow and inspires creativity.
Filterscape FX/Q6:
2 multimode filters, each offering low-frequency, band-pass, high-frequency, and notch modes.
New in Version 1.5: Introduces 9 additional analog filters, including 2-pole, 3-pole, and 4-pole options.
4-band parametric equalizer featuring five modes: LS-Peak-Peak-HS, 4 Peaks, LP-BP-BP-HP, 4 Bandpasses, Panned Bandpasses.
8 morphable snapshots for creating custom EQ settings.
Modulation options for each EQ band.
2 signal mixers with roles that depend on the selected routing configuration.
Stereo delay with independent time control for each channel.
2 host-synchronized sequencers with up to 16 steps and mix (slide) control.
2 synchronized LFOs offering 8 different waveforms.
4 envelope followers.
5 routing options for delay, filter, and equalizer signals.
Redesigned and expanded factory library featuring improved categorization, volume balancing, and increased variety.
Filterscape VA:
2 spectral oscillators with 15 waveform options, including wavetables.
Equipped with the same equalizer as Filterscape FX but polyphonic.
Additional features like ring modulation and hard synchronization.
Sub-oscillator with 3 waveforms.
Noise generator.
3 LFOs (1 global, 2 per voice) and 3 envelope generators with roll-off/boost and 4 shape modes.
Combo arpeggiator/sequencer.
Multi-mode filter: low-pass, IF, high-pass.
Choose between polyphony, duophony, or monophony (retrigger or legato).
Includes 2 effects: delay and chorus.
Redesigned and expanded factory library featuring 200+ new VA presets that utilize new waveforms and filters.
Version 1.5.0 Changelog:
New SVF filters.
Completely redesigned graphical interface.
Added more oscillator tables.
Enhanced equalizer display features.
Introduction of a new output clipper.
CLAP support.
Compatibility with the latest macOS Ventura/Sonoma.
Native support for Apple Silicon Macs.
Improved VST3 support.
Updated VST3 SDK to version 3.7.8.
Improved GUI performance and dialog handling.
Enhanced noise behavior.
Implementation of a modern preset browser.
Redesigned factory preset library with improved organization and more presets.
Simplified preset installation via drag and drop.
Additional parameters introduced, including pan modulation, LFO frequency, and global transpose.
Support for MTS-ESP microtuning on Mac, Windows, and Linux.
Added Preferences and MIDI-Learn sections.
Ctrl A/B replaces the fixed modulation of Breath and Expression.
Ctrl A/B "Set as Default" option added to the MIDI Table page.
Various improvements to parameter automation in Pro Tools and latency compensation for MIDI events.
Enhanced registration dialog and installer features for Windows.
CLAP enhancements, including module name display and note expression support (micropitch, tone, pressure, pan, gain).