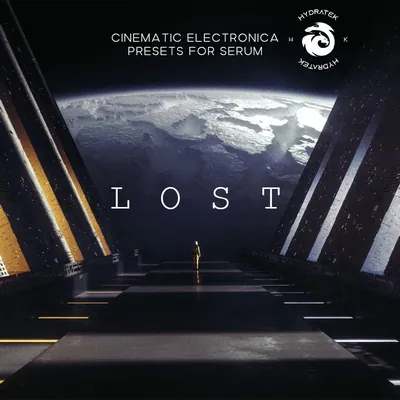 "In space no one can hear you scream", "Alien" (1979).
Inspired by sci-fi movies, reimagined in a modern and futuristic way, HydraTek is proud to present LOST, the soundbank for Serum with 100 handcrafted presets covering swirling and heavy bass lines, crisp and rich solos, evocative and deep soundscapes, futuristic scientific fantasy. sequences, distorted "hybrid" sounds, textured sound effects and more..
As a bonus, 130 samples made with the aforementioned presets are included, divided into "One Shots" and "Loops"
as well as a special Serum skin in accordance with the concept of the package.
Ready to go into deep space?
100 serum presets (20 Bass, 15 Hybrid, 10 Keys, 15 Lead, 10 Pad, 10 Pluck, 10 Seq, 10 SFX)
8 categories: basses, hybrids, keyboards, solos, pads, plucks, sequences and sound effects.
All 4 macros are assigned for flexible presets.
Special macro "MUTATE", present in each preset, for cardinal sound transformation.
130 samples and loops, key and tempo matched to your projects.
Serum custom skin with sci-fi futuristic concept.
100% free sounds to use in your own creations.
Copy Audio Imperia – Lunar (Serum presets) to the following location:
Windows
 : Documents\Xfer\Serum Presets\Presets\
MAC
 : Library\Audio\Presets\Xfer Records\Serum Presets\
To install a skin, simply click again on the <Show Serum Presets folder> in the <Menu> tab and drag the contents of "HydraTek – LOST (Skin)" inside the <Skins folder>