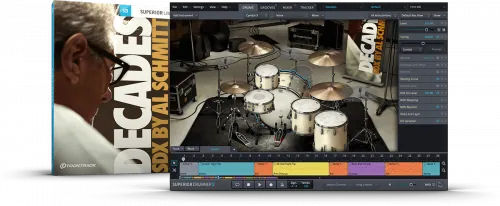 Music software company Toontrack has released the Decades SDX library for virtual drums Superior Drummer 3, which was recorded at the legendary Capitol Studios with the assistance of a renowned sound engineer Grammy-winning and multiple music award winner Al Schmitt.
The new library is a collection of percussion instruments with five kits, each with a different sonic character and created using different recording/processing approaches appropriate to a particular stage of an engineer's career. The library kits can be used to work with pop, jazz, funk and many other genres.
Additional Information
The library does not require installation. It is enough to select the path to the library by clicking Settings – Libraries / Paths – Add Library Path – and select the SL-Decades folder.
The contents of the Midi folder must be copied to the main Midi folder.
There are 4 configuration options for this library (when downloading, just select files with the .obw extension from the Sounds folder by numbering):
Basic Setup – 1-17
Full Stereo and 5.0 Setup – 1-33
Height Surround Setup – 1-49
Full Bleed Setup – 1-64