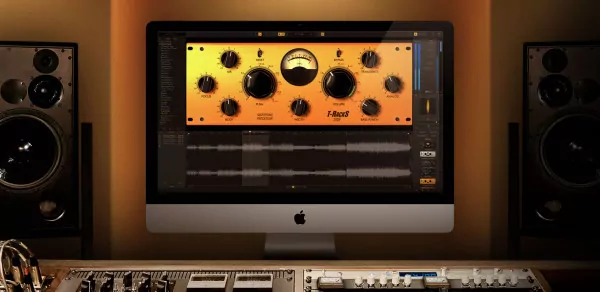 T-RackS 5 is the ultimate mixing and mastering workstation from the creator of the first desktop mastering software.
Introducing the Farm Stone Room Reverb for T-RackS 5. Not only is the Farm Stone Room plugin a faithful recreation of Genesis' stone live room, it's also as close as possible to the legendary Townhouse Studios drum room it was modeled after. The stone walls of this relatively small space give the drums an amazing sound, especially when they are triggered through the SSL® 4000G mixing console that producer/engineers Hugh Padham and Nick Davies used at both Townhouse Studios and Fisher Lane Farm and reproduced faithfully here.
The Joe Chiccarelli Vocal Strip models Joe's line of high quality analog outboards, customizable signal flow and unique know-how to provide an incredible level of control and character to any style of vocal track.
IK Multimedia invented T-RackS in 1999, ushering in a new era by bringing complete and affordable mastering software to everyone.
Since then, we've been at the forefront of setting industry standards and creating some of the world's best audio plug-ins for professional applications. From day one, an ever-increasing number of professionals and enthusiasts have trusted our expertise and meticulous approach to building the best digital processors on the planet. It's no coincidence that thousands of top-charting recordings have been made using T-RackS.
Add. information :
Peculiarities
4 new processors (Master Match, Dynamo, EQual, ONE).
Includes 9 processors.
Completely redesigned, flexible and resizable interface.
Ultra-fast, flexible and smooth workflow.
Over 35 high-quality modules: available from the menu or in carefully selected packages.
Unique modular chain system with 16 serial/parallel slots.
Superior audiophile quality audio recorder.
Floating point processing capability up to 192kHz/32bit.
4 optimized anti-aliasing options selected by the user.
Wide calibrated metering for multi-standard, broadcast-ready and advanced masters.
Assembling an album with ordering and embedding metadata.
Export function to multiple file formats.
64-bit native support.
Standalone workstation, plug-in set and separate plug-ins for audio devices, VST2, VST3 and AAX formats.