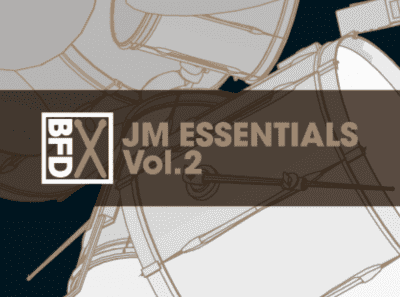 Groove libraries for the BFD 3.4 drum module
Features over 1300 patterns
Each palette includes up to 50 Groove and Fill variations
Palettes are supplied in BFD3, BFD Eco and BFD2 versions
Reggae, punk, hardcore punk, funk, rockabilly, disco, nu-metal and genre swings
Includes accompanying presets
JM Essentials Vol.2 is a BFD Groove pack that provides a realistic set of reggae, funk, disco, swing, rockabilly, nu-metal and punk patterns for FXpansion's BFD3, BFD Eco and BFD2 acoustic drum software instruments.
Produced by experienced composer Jacques Mathias, JM Essentials Vol.2 contains expressive patterns that offer a realistic foundation on which to build your productions. The included Grooves are ready to be used as-is or edited to your requirements and feature the convincing feel of a real drummer. Each supplied palette features up to 50 Groove and Fill variations, with the pack containing over 1300 patterns in total. Palettes are supplied in BFD3, BFD Eco and BFD2 versions.
This is an updated library from inMusic Brands. The installer is original, with the exception of changing the serial number in one of the files to bypass the activation of the library.
The distribution included both versions of grooves for BFD3 and BFD2 & BFD Eco
Launch BFD3, go to the tab Tools – Set up content locations
Press the Search Folder button and specify the folder with the installed BFD library JM Essentials Vol. 2 For BFD2 & BFD Eco
Copy BFD3 grooves from BFD folder JM Essentials Vol. 2\Grooves and place on the path C:\Users\Your Name\Documents\BFD Drums\BFD3\Grooves