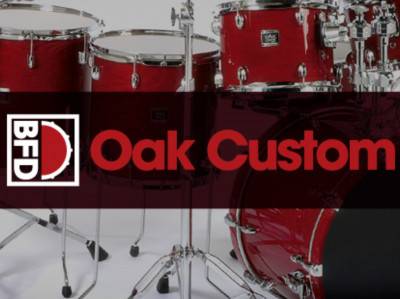 Elevate your drumming experience with the BFD Oak Custom expansion pack. This remarkable addition brings the powerful Yamaha oak drum kit to your BFD3, BFD Eco, or BFD2 setup, delivering an exceptional range of drumming possibilities. Dive into the world of premium drum sounds, versatile toms, and bonus snare options that will take your music production to the next level.
Key Features:
1. Expansion Compatibility: The BFD Oak Custom expansion is designed to seamlessly integrate with BFD3, BFD Eco, and BFD2, ensuring that you can enhance your drumming experience regardless of your chosen platform.
2. Yamaha Oak Custom Kit: Immerse yourself in the rich and resonant tones of the Yamaha Oak Custom kit. Known for its exceptional sound quality, this kit provides a wide spectrum of sonic possibilities for your music projects.
3. Versatile Toms: The toms included in the BFD Oak Custom expansion are not just ordinary; they are played with sticks, mallets, and hotrods. This versatility allows you to explore different playing styles and tonal characteristics, adding depth to your compositions.
4. Dual Beater Types: The kick drum in this expansion pack offers dual beater types, enabling you to achieve the precise kick sound you desire. Whether you prefer a punchy attack or a deep, resonant thud, these options have you covered.
5. Bonus Snare: As an added bonus, you'll have access to a reduced-detail Yamaha bamboo snare from BFD Signature Snares Vol.1. This snare expands your sonic palette, giving you even more creative options.
6. Drum Case Samples: The BFD Oak Custom expansion goes the extra mile by providing bonus samples of the original Yamaha drum cases being struck. These unique samples can add a layer of authenticity to your drum tracks.
Studio-Quality Recording: The sounds in BFD Oak Custom are meticulously recorded in studio conditions, ensuring that you capture the full essence and warmth of the Yamaha oak drum kit. This attention to detail results in drum sounds that are full-bodied and possess devastating low-end power.