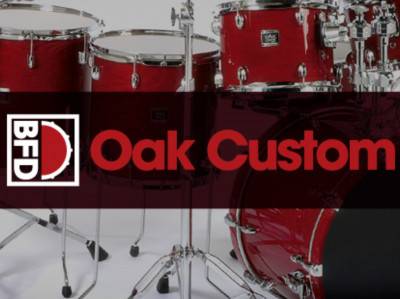 Library for the BFD 3.4 drum module (Expansion pack with amazing Yamaha oak drum kit)
Expansion for BFD3, BFD Eco and BFD2
Yamaha Oak Custom kit
Bonus Yamaha bamboo snare
Toms played with sticks, mallets and rods
Bonus samples of the drum cases!
BFD Oak Custom is an expansion pack featuring a stunning Yamaha oak drumkit for your BFD3, BFD Eco or BFD2 installation.
BFD Oak Custom's toms are played with sticks, mallets and hotrods for extra versatility and the kick is played with 2 beater types. The sounds are full of body and devastating low end and also include a reduced-detail Yamaha bamboo snare from BFD Signature Snares Vol.1 and even bonus samples of the original Yamaha drum cases being struck.
BFD Oak Custom is recorded in similar studio conditions to BFD Percussion, other FXpansion Yamaha-based expansions such as BFD Jazz Maple and the Mapleworks kits in BFD3.
This is an updated library from inMusic Brands. The installer is original, with the exception of changing the serial number in one of the files to bypass the library activation later
Install the library
Launch BFD3, go to the Tools – Set up content locations tab
Press the Search Folder button and specify the folder with the installed BFD Oak Custom library