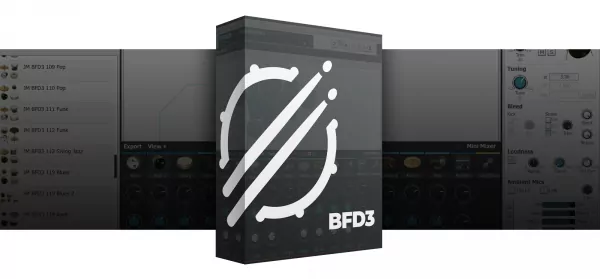 BFD3 is the third generation of FXpansion's flagship acoustic drum software: a new level of realism and innovative features in a redesigned intuitive engine.
With stunning new kits, pre-made mix presets, and modeling technology for toms and cymbals, BFD3 delivers uncompromising detail. The updated interface has a new mixer and a browser for sounds and presets, which makes working with BFD even easier.
The new BFD3 library is designed to provide a diverse range of drum sounds out of the box. Andrew Scheps, Rail Jon Rogut and John Emrich took part in its recording. The recording was made in 2 rooms to create a varied sound atmosphere, using sticks and brushes.
BFD3 – Hot Fixes In BFD3.4.4.31
BFD Support URL's redirected to new support portal
Meter when muted variable not booting up from preference start
Kick microphones routing breaking when anything is changed
BFD3 – New Features
UTF-16 character support for user accounts on windows
Mixer shows meters even when channels are muted
Mute+Solo behavior improved – implied solo logic is now more modern and intuitive
BFD License Manager – Bug Issues Resolved
Crash when poor internet connection causes Product List Refresh to fail
User reporting that License Manager cannot connect in China
License manager not responding
License Manager says Expansions are not Authorized
BFD3 – Bug Issues Resolved
BFD3 enabled despite license being expired (Win only)
Rapid DAW transport start-stop stress test can crash BFD
The 'produce diagnostic report' button in the preferences causes an error
Only some tracks meters are active when soloing
Solo mute representation appears to be incorrect
Imply-Soloed upstream sends is incorrect: bug Hearing too many channels on a buss
Ambient send level not restored with processed kitpiece
macOS BFD3 Uninstaller within BFD LM fails to launch due to incorrect path
Inconsistency in output assignments
BFD3 quits unexpectedly during " Migrate Now"
Keyboard shortcuts not working when BFD is plugin in Ableton Live 11, win10
Long mac path support (was: BFD3 AU causes crash while launching in Logic Pro)
User reporting incorrect thumbnails and overlapping KP graphics
Drag Exporting grooves with "Export Audio not MIDI" causes freeze
DAW crashes when loading in a processed sample
Loading BFD2 presets does not recall ambient mic routings correctly
BFD3 has been disabled after updating to 3.4.3.7 in macOS Monterey
Resetting preferences sets profile drop-down to "Economy detail 16 bit"
Unable to run on Windows 10 accounts with Japanese characters
BFD3 notes getting randomly choked during playback
Kit /Preset loading progress bars not finalizing
Projects crash when using multiple instances in Reaper, Studio One, Ableton Live
Fixed a crash when loading presets.
crash on rescan all with non paths
drag kit piece creates slot but doesn't load.
hihat audition strip in KP inspector silent in "all artics" mode until another artic is selected
Effects AB switch bug
Fixed Null chan pointer dereference when connecting mics to kitpiece – channel name matching
Fixed Damping code low pass term storage made assumption that right channel index was +1 left channel index
Fixed credits box bug.
Fixed Apple empty date string reinterpretation issue
BFD – Task Issues Resolved
MIDI Map panel keyboards: vector drawn, less frenetic
Resize midi map artic list when GUI is big
BFD should tell users to go online to recheck license if there is 20 or fewer days until license expiry
Add preference / menu item for Meter When Muted