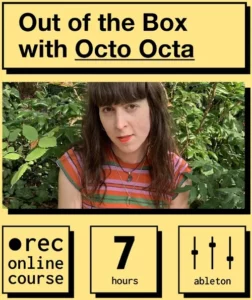 Maya Bouldry-Morrison, better known as Octo Octa, is undoubtedly one of the most compelling underground acts of the last decade. The New Hampshire-based producer is known for her vinyl-heavy DJ sets, hardware-based live sets, and hybrid hardware/software studio.
Now Maya is giving you the chance to go inside her home and dive into how she makes use of her fun and affordable setup to get her signature Octo Octa sound. Over five lessons, she will break down the hardware routing, MIDI clocking and sequencing, synthesis and sound design tricks, and mixing techniques that come together to create her original productions. She'll also demonstrate why you don't need to spend thousands of dollars to make great tracks at home. Expect plenty of synth talk, live jams, and eye-opening tips for getting out of your DAW – all delivered with Maya's wealth of expertise and charisma.
Your Instructor
Maya Bouldry-Morrison (aka Octo Octa)
Maya Bouldry-Morrison, better known as Octo Octa, has been one of the most notable underground house producers of the 2010s. Debuting in the early years of the decade with smooth, hazy releases for 100% Silk, including the 2013 full-length Between Two Selves, she gradually developed a more breakbeat-heavy sound, as displayed on releases such as 2019's Resonant Body. Additionally, she founded the T4T LUV NRG label with her partner, Eris Drew, and the two frequently co-produced tracks and DJed together; their first collaborative mix CD, Fabric Presents Octo Octa & Eris Drew, arrived in 2020.
Content
Day 1 – My Studio and Routing (01:35:09)
Day 2 – MIDI Clocking and Sequencing (01:24:11)
Day 3 – DAW-centric Alternative Setup (01:31:25)
Day 4 – Programming Synths, Drums, and Effects (01:36:58)
Day 5 – Editing/Exporting (01:30:21)
Octo Octa IO Music
Arrangement Video (00:15:46)