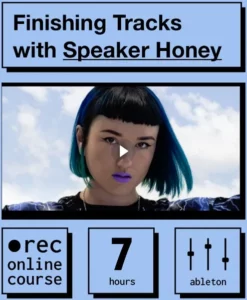 In this exclusive course, you'll learn how to transform your unfinished ideas into finished songs with mau5trap artist Speaker Honey. Over 5 lessons, she will share her insight into structuring songs, creating and refining core melodies and rhythms, the importance of cohesive transitions, FX placement, audio and midi processing, and the mixdown process.
By gaining access to Speaker Honey's unique and original sound, we can understand more about how to create a song using cross-genre techniques and production styles.
Your Instructor
Speaker Honey
Stepping onto the scene with an intoxicating signature sound and a spunky, future-focused state of mind, Speaker Honey represents the next generation of dance music.
Though she's spent years playing in bands and tinkering with countless tools to create her signature touch, Speaker Honey made her introduction through one of dance music's most notable labels, mau5trap.
Her debut single "Shoyu" was released on the label's 2019 compilation, We Are Friends, Vol. 9, a perfect fit for the diverse, innovative nature of the record.
Following her label debut, Speaker Honey has since released a handful of music with mau5trap including her Night Visions EP, Super Future EP, and her latest Interrupted EP.
Content
Introduction
Welcome to IO Music Academy (0:44)
Day 1 – Project Organization & Creative Direction
Lesson 1 – Video Part 1 (29:48)
Lesson 1 – Video Part 2 (30:15)
Lesson 1 – Video Part 3 (24:16)
Day 2 – Melodies, Rhythms, and Keys
Lesson 2 – Video Part 1 (29:45)
Lesson 2 – Video Part 2 (30:34)
Lesson 2 – Video Part 3 (70:58)
Day 3 – Effects, Transitions, and Flare
Lesson 3 – Video Part 1 (30:28)
Lesson 3 – Video Part 2 (31:08)
Lesson 3 – Video Part 3 (33:49)
Day 4 – Mixdown Part 1
Lesson 4 – Video Part 1 (31:55)
Lesson 4 – Video Part 2 (30:17)
Lesson 4 – Video Part 3 (30:19)
Day 5 – Mixdown Part 2
Lesson 5 – Video Part 1 (61:02)
Lesson 5 – Video Part 2 (61:26)
Lesson 5 – Video Part 3 (38:21)