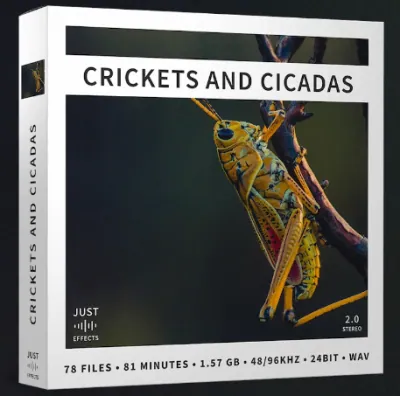 MUSICAL SOUNDS OF NATURE
With this library you will get beautiful sounds recorded by us in Europe and the jungles of Southeast Asia. Crickets, cicadas, and grasshoppers are commonly found in open fields, trees, or primeval forests with warm temperatures. Good-sounding crickets and cicadas are a must-have sound effect that every sound engineer needs to create exotic soundscapes, dry deserts, or the acoustic backdrop of a mild summer evening.
CLEAR RECORDINGS
All sound effects are extremely low noise and can be easily used as a building kit to create a unique sound ambience. Near-to-far perspectives help you create your own sound environment.
FROM SINGLE INSECTS TO STRING
Sounds range from musical songs played by individual crickets at close range to cricket atmospheres and the buzzing and creaking sound of cicadas in daylight. The singing of insects is difficult to describe; much easier to listen to a wide variety of options. Our language does not define the sounds of crickets or cicadas well: buzzing, clicking, grinding, buzzing, crackling, trilling, chirping. We usually use only one descriptive verb, mostly onomatopoeic, but these insects make many different sounds.
Crickets:
– 45 Files
– 42 Minutes
Cicadas:
– 19 Files
– 24 Minutes
Grasshoppers:
– 14 Files
– 15 Minutes