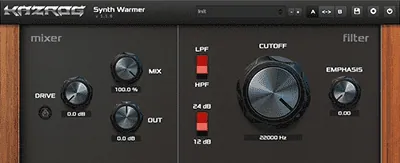 Classic analog filter / saturator:
Synth Warmer is an analog synth filter emulation based on the legendary 1970s monosynth ladder filter design, with overdrive distortion and self-oscillation. Use to warm up rough supersaws, add interest to drum loops, or create total sonic chaos as a sound design tool.
Peculiarities
Classic low and high pass filters.
Topologies 24 dB and 12 dB per octave.
Next generation analog emulation based on the 1973 "model d" monosynth by Kazrog studios.
+48dB gain drive circuitry for classic jack-in-the-box sound.
Wet/dry mix.
Changes
Support for Apple Silicon Native AAX (Pro Tools).
Changes to resampling settings are updated on the fly (rather than on session reload).
Separate offline resampling settings are disabled in Pro Tools and Logic (these hosts will get this feature when/if they react to changes in reported mid-session plug-in latency for PDC).
PluginDoctor support (avoid real-time oversampling settings above 2x for the most consistent results).
Updated all frameworks and SDKs to the latest stable versions.