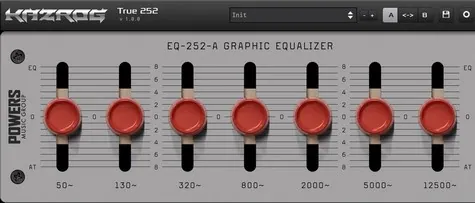 Continuing the line of vintage analog emulators from Kazrog and Powers Music Group such as True Iron and True Dynamics (both NAMM TEC Award nominees), the True 252 is an emulation of the much sought after Langevin EQ 252A graphic equalizer.
In creating this emulation, numerous measurements were taken of the original equipment in the Powers collection, and every effort was made to accurately represent it in the digital realm – including the extremely musical EQ curves that inspired the original Motown-style EQ circuit, and the original's soft natural saturation.
This EQ is incredibly intuitive and brings masters, busses and individual tracks to life in a way that feels effortless and immediate.
High fidelity emulation of the Langevin 252-A graphic equalizer.
Gain Compensation – Maintains the same apparent loudness regardless of the EQ slider settings.
Continuous gain control – not stepped like in competing plug-in emulators of similar equalizers.
Equalization "without spasms". (For more on EQ cramps, and why it's bad, in this video from Dan Worrall).
Standard Kazrog preset manager with A/B comparison.
Compensated internal bypass.
Separate oversampling settings for real-time and offline processing, configurable on the fly.
Two UI themes – black and gray – based on the bezels of the original 252-A and its cosmetic 270 variation.
Support for Apple Silicon Native AAX (Pro Tools).
Changes to resampling settings are updated on the fly (rather than on session reload).
Separate offline resampling settings are disabled in Pro Tools and Logic (these hosts will get this feature when/if they react to changes in reported mid-session plug-in latency for PDC).
PluginDoctor support (avoid real-time oversampling settings above 2x for the most consistent results).
Updated all frameworks and SDKs to the latest stable versions.