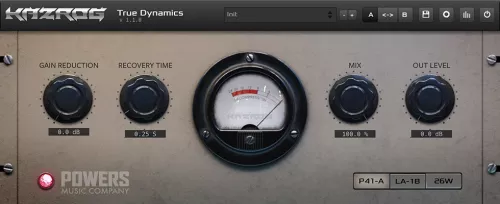 True Dynamics – Vintage Variable Mu Compression in the box
Two rare vintage tube compressors – available in plug-in format for the first time!
NAMM TEC Awards Nominee
True Dynamics (now nominated for a NAMM TEC award) mimics the Presto 41A and ITA LA1B, two of the most sought-after and hard-to-find vintage tube compressors in all of professional audio. It's the rare secret weapon of some of the world's best mixing and recording engineers and can now be in your DAW for a tiny fraction of the cost of owning real devices (if you can even find them!)
The emulation technology behind True Dynamics includes the same industry-leading analog DSP used in Kazrog's famous True Iron plug-in.