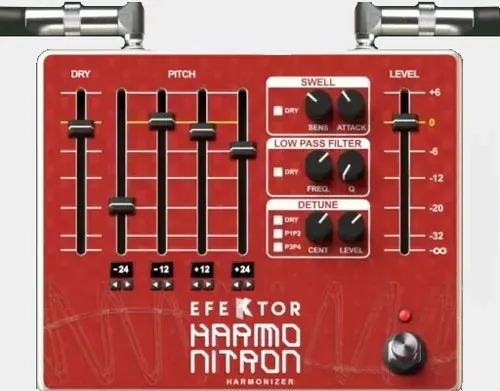 Introducing the KUASSA EFEKTOR HARMONITRON, the ideal pitch bending and harmonization tool for sound designers and music producers. Unleash the power of pitch manipulation to add depth and dimension to your soundscapes. With the ability to add extra low tones and detune to thicken your riffs, raise different pitch notes to enrich your vocals, or use the swell function to create an organ or synth tone with your guitar.
Four-channel polyphonic pitch-shifting.
-24 to +24 semitones.
Up to four different pitch settings.
Swell (slow attack) and low pass filter.
Detune effect for a wider and richer sound.
Individual volume and pan controls for the Dry signal and all pitch voices.
Photorealistic graphics for realistic guitar playing.
Direct and easy to use interface.
CV inputs for automation (rack expansion only)