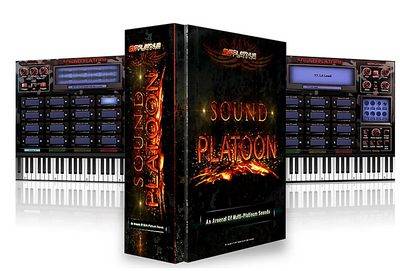 The Sound Platoon is an incredible virtual instrument from multi-platinum producer Trevor Lawrence Jr. (including Eminem, Alicia Keys, 50 Cent, Hans Zimmer, Herbie Hancock, Mariah Carey, Snoop Dogg and others) and the MVP PLATINUM team! This powerful new tool lets you use the production capabilities of multisampled instruments, loops, one-shots and vocals in one convenient plug-in software.
Sound Platoon is a modern, diverse and large-scale sound. Handcrafted multisamples, modern loops, riffs, single shots, vocal loops and riffs will get you going faster. It also includes built-in effects and is an incredible weapon in your production arsenal, whether you're creative, hip-hop, EDM, trap, r&b, pop or soul.
A total of 300 professionally designed and inspiring multisampled instruments are available on Sound Platoon, as well as 30 radio-ready construction loop kits in Trap, EDM, Hip Hop, R&B, Pop and Soul styles. Four of these builds also include vocal hooks! These sounds and kits have been designed by MVP PLATINUM, a well-established team of multi-platinum producers, engineers, musicians and songwriters who are responsible for millions of records sold worldwide, so you have a solid foundation before you even get started. production.
Developed on the world famous UVI audio engine, Urban Vault offers a wide range of built-in effects including HP/LP filters, reverb, delay, distortion, EQ, compression, phaser, flanger, chorus, modern stutter effects and modern tone. Effects up and down. Sound Platoon also features advanced production workflow features such as Note Repeat, Chord Assign, Glide, Key Assign and Sample Exchange, allowing you to create your own custom kits or swap out individual samples for completely original pieces of music. The Sound Platoon sounds great, is easy to use and is effective in the studio and live.
Peculiarities
300 multi-sampled instruments
30 construction kits containing loops, samples, riffs, one shots, and vocal loops & riffs
On-Board Effects
Modern Stutter Effect
Modern Pitch Up & Down Effects
Customize your kits with the sample exchange feature
Glide/Mono/Poly
16 MPC style pads with 4 groups
Note Repeat – perfect for trap, EDM, pop, and hip hop styles
Key Assign – select a sound and instantly spread it chromatically across the keyboard
Chord Assign – play a chord or progression and assign it to a pad for easy
Tune, Input Quantize, Latch, Easy MIDI Assign, and Pitch playback/Drop & Rise FX
Mac & PC Compatible
16GB USB Thumb Drive
World-renowned UVI Engine