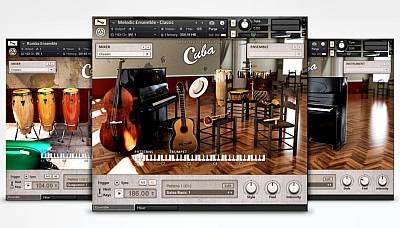 AUTHENTIC RHYTHMS AND HARMONIES
Authentic Afro-Cuban sound in a rich, highly flexible instrument. Add Cuban flair to all modern products.
SPOTLIGHT COLLECTION: CUBA brings the warmth of Afro-Cuban music straight to your studio. Cuba's musical heritage has influenced pop, house, techno, indie and more. Its infectious grooves work in almost any context and are beautifully reflected in this intuitive instrument.
CUBA offers percussion and melodic ensembles, authentic rhythms and harmonic progressions, as well as built-in sequencer, mixer and effects – it's never been easier to add a Latin twist to your tracks.
CUBA offers a wide selection of traditional Cuban melodic and percussion instruments and combines them into carefully balanced ensembles. Traditional ensembles for salsa, rumba and son, as well as more modern dance and pop music, all feature authentic grooves and patterns ready for immediate use.
Instruments include conga, bongo, trumpet, piano, rarely sampled cajon, and more. For complete flexibility and added nuance, use these separate tools separately.
CUBA contains many time-saving features. The library has a treasure trove of carefully crafted authentic grooves that adapt to any tempo without loss of quality.
A simple yet powerful sequencer lets you instantly tweak patterns and take into account nuances. The Groove, Feel and Intensity knobs let you tweak micro-timing, humanization factor, and overall velocity for additional organic simulation. Select up to 12 patterns with a rocker switch and polish your tracks in the mixer with quality effects like Solid EQ, convolutional reverb, tape saturation, and compression.
NEW 1.2.2 – 2021-08-25
FIXED Midi drag not working after initial load
1.2.1 – 2021-06-28
CHANGED Spotlight Collection logo and browser image