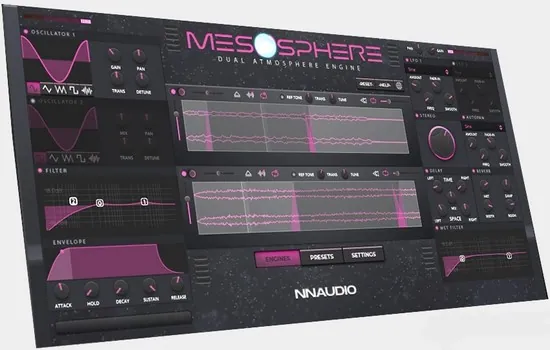 Create unique pads and atmospheres with this engine double mixing!
We all have a hard drive full of samples we don't know what to do with, right? It's time to use these samples in an amazingly unique way Meet the "Mesosphere – Dual Atmosphere Engine", which was created just for this! "Mesosphere – Dual Atmosphere Engine" will let you express your deepest feelings without saying a word. Simply drag and drop your sample into one of the two engines, tweak it and let the magic happen. By mixing different sounds from both engines, you will get crazy atmosphere and movement for the background of your tracks. This is how you create the mood and feel of your production.
"Mesosphere" makes it easy to express yourself in a BIG and DYNAMIC way. With an easy to use interface, you can easily load your own audio files into the sampler engines (or one of the 50 included audio files). Then, using various sampler and FX properties, we can mix and manipulate these sounds to create one big atmospheric venue. Combine these sounds with the 2 built-in oscillators and the possibilities are almost endless! You can also get inspiration and knowledge about the plugin using 1 of the 15 factory presets.
Turn your deepest emotions into your art. Use "Mesosphere – Dual Atmosphere Engine" in your next project.
Installing Mesosphere WIN
1: Run the NNAudio 111.bat file.
2: Install Setup v1.1.2.
3: Open the plugin and specify the location of the Mesosphere Samples Archive folder.
4: Close and remove the plug-in channel from the DAW
5: Open it again.
Now the presets will work!