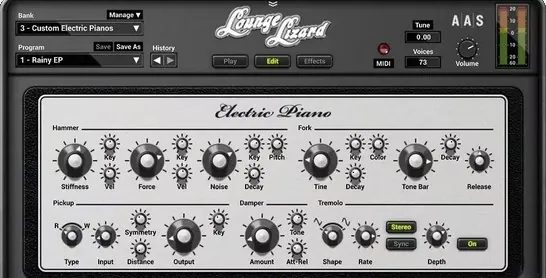 Plugin The Lounge Lizard EP-4 delivers authentic vintage electric piano sounds complete with everything you need.
Main characteristics
Library :
Over 240 inspiring presets covering classic electric piano sounds made legendary, custom electric pianos, classic track sounds and wild experiments. The factory library covers almost all electric piano needs and more.
Performance :
Direct access to key effects and piano parameters to perfectly match the tone to your performance. Play your piano through the various cabinets, preamps, mic and recorder signal paths commonly used with electric pianos.
Edition :
Hammer, timbre, teeth, pickup – Lounge Lizard is built on the simulation of real piano components. Custom pianos can be created with just a few settings, which took hours of painstaking work on real instruments. The factory library is filled with carefully designed pianos, but you'll have fun building your own.
Effects :
The Effects panel completes the Lounge Lizard EP-4 as a comprehensive package with amazing polishing tools at your fingertips to match a classic track sound, create custom tones, or just go crazy.