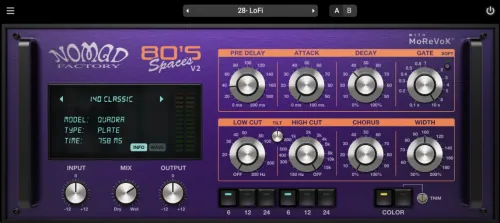 The best reverbs of the 80s era !
Nomad Factory, Plugivery and MoReVox have teamed up to bring you the ultimate 80's Vibe reverb plugin.
80s Spaces development was spearheaded by Plugivery CEO Eric Nolot and late friend Bernie Torelli of Nomad Factory.
They joined forces with Sabino Canonne (MoReVoX), who brings his convolution expertise and unique impulse response design. Sabino also shares his wonderful "Mix Ready" reverb presets.
Description Continued
The robust Plugivery platform is fully compatible with the latest macOS systems and M-series silicon chipsets. The latest releases of Windows are also fully compatible.
80s Spaces "magically" mimics the typical reverbs and space effect units used by legendary artists such as Michael Jackson, Madonna, Duran Duran, Guns N' Roses, Tears for Fears, David Bowie, Depeche Mode, U2, Eurythmics, George Michael, Phil. Collins, Quinn and many others.
Typical 80s gated reverbs, super lush cavernous and sweeping tails, short rooms and chorused verbs all require MINIMUM settings. This allows you to quickly set up professional reverb effects.
It comes with an intuitive (single board) and user friendly interface.
You can use 80's Spaces as an "insert" or, preferably, on handy "auxiliary tracks". The effects unit boasts global dry/processed control, chorus, decay, gate, filter and other important parameters for precise control of the effect.
The new version of the 80s Spaces plugin offers even more convolutional IRs and presets than ever before:
Functions
250 high quality convolutional impulse responses (+80 with v2).
12 reverb reference models (+5 since v2).
510 well organized presets (+110 since v2).
Pre-Delay, Chorus, Width.
High/Low Pass Filters.
Dry/wet control.
Gate, Decay.
Parameter display with intelligent signal overview.
Changes in version 2.2.0
This update includes a number of enhancements and changes to improve the user experience.
The UI is now resizable up to 200% for more flexibility and ease of use.
The dry/wet mix setting has also been updated to 100% by default. This change will provide a more intuitive and user-friendly interface.
Windows users will also be happy to know that our installers no longer trigger the Microsoft SmartScreen warning, providing a smoother installation experience.
Finally, the update includes various minor fixes that improve overall performance and stability.
We hope these changes improve your experience with 80s Spaces.
DOWNLOAD FOR MAC
MAC users click 
HERE
to download SETUP from developers' site.
And use the Activator from the distribution for registration