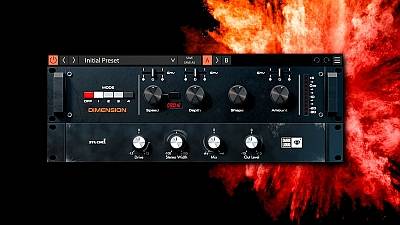 Year / Date of Release : 09.2021
Version : 1.0.0
Developer : Overloud Developer
site : overloud
Format : STANDALONE, VST, VST3, AAX, AU
Bit depth : 32bit, 64bit
Tablet : present | R2R
System requirements : Core i3 1.4GHz with 4Gb of RAM, 1280×800 video.
Windows 7, Windows 8 and Windows® 10
Mac OS X 10.6
Macintosh® Intel Core Duo® 1.5GHz with 1Gb of RAM, 1024×768 screen.
Description : Overloud Gem Mod emulates Roland Dimension-D chorus.
Overloud released Roland Dimension-D chorus emulation as Overloud Gem Mod plugin. The novelty repeats the capabilities of the device of the 1980s and offers a number of new possibilities.
The original apparatus was often used for vocal processing in the 1980s and 1990s. Dimension-D offered organic modulation and overtone generation on the input, bordering on saturation in effect.
The plugin allows you to dynamically control all the main parameters through the input envelope. According to the developers, thanks to this, you can get a "breathing" effect that changes as the level of the input signal increases. In addition to this, there is a "mod" mode that changes the intensity of the filters and LFOs.