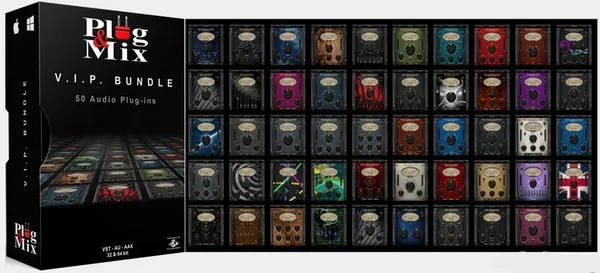 VIP Bundle is a set of 50 high-quality sound plug-ins that will help you achieve great sound in no time. Each plug-in is designed to perform only one task, allowing you to quickly and easily apply a specific effect or processing to an audio track. For example, if you want to add a simple phaser effect to a guitar track, simply load up P&M Phaser, try out a few presets, tweak the effect with just two or three knobs, and move on to the next track.
The VIP Bundle will satisfy the needs of any musician or sound engineer who wants to get great sound fast!
Download and try the P&M VIP set and see how useful it can be.
Products included in this package
🔶 Official single R2R installer in .
[ 170 MB >>>after extraction>>> 1.46 GB ]
Ambiosoniq: Stereo image enhancement.
American Tweed: Fender Bassman sound.
Analoger: A plugin for emulating vintage tapes and tubes.
Basspeg: Bass boost.
Brightness: A plug-in for adding brightness in the style of Abbey Road.
British Tone: MARSHALL amplifier sound.
California Tone: MESA BOOGIE amp sound.
Chorus Ensemble: A deep chorus ensemble effect.
Clarisonix: Sub-bass and harmonica amplifier.
Classic Flanger: A silky smooth flanger effect.
Classic Phaser: A vintage multi-stage phaser effect.
Cool-vibe: An effect based on Hendrix's Uni-Vibe.
Degradiator: Beat crusher style plugin.
Deluxe Tilt: Extreme EQ when you need it.
Digital Plate: Analog Gold Plate reverb based on EMT.
Digital Reverb: Eventide based reverb.
Dimension 3D: Roland Dimension D type effect.
Distorted: Smooth distortion effect.
Echoflex: A tape delay effect based on echoplex.
Electro Optical: Two-channel electro-optical compressor/limiter.
Electro Q Tone: Extreme EQ when you need it.
Gatevador: Close the gate.
Granulizer: Plug-in for processing granulate.
Liquid Air Q: An immersive EQ.
Lo-Fi: Adds digital pollution to your tracks.
Loudbass: Stereo bass booster.
Ls Rotator: Great Leslie.
Magic Queen: VOX amplifier sound.
Monster Boost: Warm-sounding signal booster.
Moogy Filter: Classic vintage filter pedal.
Multi-Tap Delay: Multi-tempo insanity.
Ob La Wah: WAH-WAH virtual pedal.
Octaplexer: Octaver Divider Plugin.
Pitch Me: Double pitch shifter.
Psycho Ring: A unique ring modulator.
Retro Compressor: Warm vintage compressor.
Retro Equalizer: Like Classic EQ API.
Retro Filter: Great sounding retro filter.
Retro Limiter: Great sounding limiter.
S-Tractor: De-Ess your vocals.
Screamer: Hardcore screaming distortion.
Stereolizer: Increase the stereo width.
Talking Tone: Talk Box and Vocoder.
ToneStack: 6 classic amp tones.
Transcontrol: SPL based Transient Designer.
Tremolo Pan: A versatile tremolo and panning effect.
Ultramaxit: An easy to use level maximizer plugin.
Vibrator: Add some vibration to your sounds.
Vinylizer: Get a vinyl sound.
Vowel Comb: Vowel overtone comb filter.