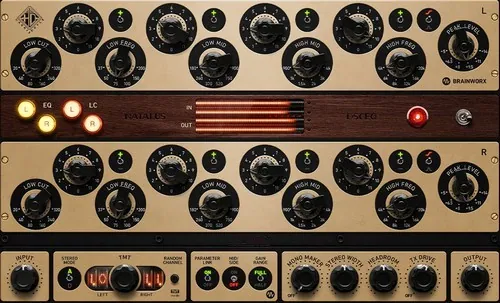 ~ Tape style saturation boost ~
Natalus Dynamic Stereo Console Equalizer (DSCEQ) is more than just a great sounding passive equalizer.
Its unique "Peak Level" control enhances the sound while maintaining dynamics.
To do this, it adds magnetically controlled dynamics processing to the signal – similar to the soft compression and saturation
found in a well-calibrated tape recorder.
Smooth out transients like never before :
While Natalus is designed primarily as an EQ, what many users enjoy most is the incredibly simple single-knob dynamics section. When you increase the Peak Level control, the magnetic transformer reduces the intensity of transient peaks so that they are much smoother, cleaner, and more analog-sounding than any conventional compressor or limiter. Use it to tame the "spiky" high frequencies of acoustic guitars, synths and percussion. Apply Natalus DSCEQ to drums and pickups for a satisfying "tape-like" hit.
Turn the knobs to apply musical tone shaping :
The beauty of passive equalizers like DSCEQ is their ability to help you dramatically change your sound without making it feel overly processed or "equalized". Don't be afraid to turn these controls further than you think. Each knob "goes to 11" for a good reason: Dramatic movements can produce musical-sounding results thanks to Natauls wide bandwidth, complimentary EQ curves, and a single analog gain stage. Think of it like a Pultec with potentially cleaner, smoother sound and even more flexible and comfortable control.
Perfect emulation of the analog original with additional features :
Brainworx engineers painstakingly modeled Rod Harris and Govinda Doyle's original Natalus hardware design to recreate every nuanced sound of the original. But they did more than that, adding signature plugin-only features like TMT, Auto Listen, Mono Maker, Stereo Width control, M/S processing and more.
Peculiarities
Accurate emulation of the unique equalizer of the Harris Doyle Natalus dynamic stereo console.

4 bands passive EQ with low cut filter and overlap frequency control.
The proprietary "Peak Level" circuit reacts to transients magnetically, like a tape recorder, holding back transients and creating a beautiful bloom effect.
An intuitive interface that allows users to focus on creativity rather than technical EQ settings.

Features of the BRAINWORX plugin only.
TX Drive "Headroom" setting for transformer model only. Brainworks' innovation.
Brainworx´ TMT inside: Tolerance Modeling Technology (TMT, US Pat. No. 10,725,727) simulates channel-to-channel differences in electronic components for the most realistic analog sound.

Mono Maker: Sums low frequency content into mono, providing a focused, punchy bass response.
Stereo Width: To expand the stereo width of your tracks.
A separate version of Mono for using the plugin on individual tracks, such as kick drum, snare, bass, vocals, etc.
Scalable user interface.
Artist presets.