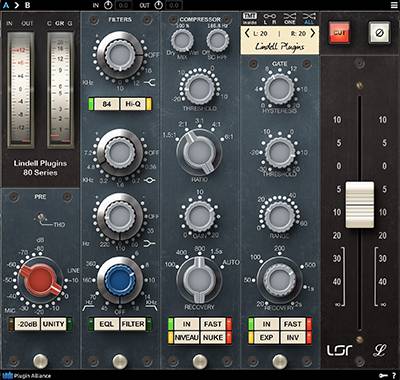 One of the most beloved consoles emulated to the marrow is the Neve 80 Series Console and 80 Series Mix Buss emulations.
Lindell Plugins is proud to bring you an accurate emulation of the original 1073/1084/2254 and 1272 linear amplifier module in your DAW. One of the classic
hand-plugged mixing consoles made by Neve Electronics, the 8028 is a truly magical mixing console that has produced countless original records over the past 30 years
, among others: Queen , David Bowie , Nirvana , Red Hot Chilli Peppers and Slipknot — the sound of this analogue legend cannot be called anything
but extraordinary.
With the Lindell 80 Series you'll find the punch and power to make your recordings sound as analog as possible.
The Channel Lindell 80 Series
 takes this console's sound to the digital realm. Track, mix and master your recordings with this special Neve flavor and achieve the tight tone that was only possible with the individual components found in the original channel strip.
To complete its new console offering, Lindell Audio has licensed Brainworx's proprietary Tolerance Modeling Technology (TMT, US Patent #10,725,727) to bring an authentic analog experience to the digital world. Mix your songs with 32 different channels to reproduce the different component tolerances found in the original equipment. As part of the PA family, Lindell also offers a workflow and feature set with this new TMT console that will be very familiar to all users of the current bx_console line.