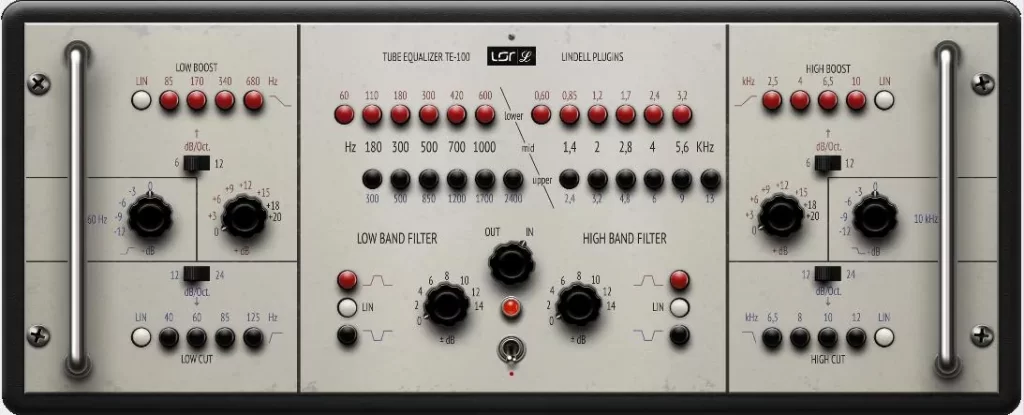 Used by Grammy winner Rafa Sardina !
The original KLEIN & HUMMEL UE-100® equalizers contain 14 tubes and are extremely rare. They are also incredibly expensive; a stereo pair will cost you over $10,000. Some people are willing to pay anything to get their hands on the rich tones of the UE-100, and Rafa Sardina (Stevie Wonder, Lady Gaga and Luis Miguel) is one of them. He is a producer/mixer with 12 Grammy wins and 35 nominations and owns 10 UE-100 units! Lindell Audio has worked tirelessly to create the TE-100 plug-in that encapsulates the sound of this highly anticipated EQ.
Add musical warmth to the tracks !
The UE-100 is an all-tube minimum phase EQ that uses six discrete filter modules to create a bank of bandpass filters that create dynamic curves suitable for source mixing, vocal tracking and mastering. The hardware block has become known for its musically warm curves and precise response, offering a variety of boost and/or cut options across the entire frequency spectrum. Now you can use the TE-100 plug-in to create sounds "like Pultec on steroids".
Simple control !
Fine-tune your sound with the low and high pass filters on each end of the TE-100, then boost one of the four critical frequencies with rounded or shelving high-Q bands to add body and presence. Create dual parametric bandpass filters at the center of the TE-100 to quickly bring out the true character of your sounds. The push-button frequency selectors focus on each corner frequency of the filter, moving them closer or further apart, letting your ears guide the way.
Faithful emulation with additional features !
Maintain complete control in a variety of mixing situations by taking advantage of level calibration, internal oversampling, and an analog mode that adds additional coloration and noise extracted from the original equipment. Fine-tune gain control in 0.5dB steps instead of the 2-3dB resolution available with the UE-100's knobs. With the Lindell Audio TE-100, the legacy of the original universal EQ is now available in your DAW.
• Accurate simulation of the all-tube and transformer circuitry of a vintage Klein & Hummel UE-100 EQ from the 60's.
• Eight bands let you cut and fine-tune the perfect response for critical frequencies in your mix.
• Warm tube saturation and bands from the classic German Rundfunk EQ (Broadcasting)
• Create dynamic frequency response curves that cut and boost at the same time – like Pultec on steroids.
• One of the most sought after tube equalizers in recording history. The equipment contains at least 14 lamps!