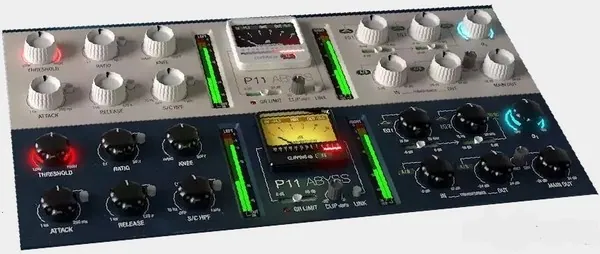 P11 Abyss is an audio chameleon compressor , which can be ultra-clean, rivaling the cleanest mastering compressors, or super-dirty, rivaling the best color compressors.
Today's producers, engineers and artists should not be limited by the need to understand the various characteristics offered by the many physical compressor topologies. They don't have to project and translate this information into choosing the right tool for the right purpose. You can choose VCA if you want a deep, aggressive hit; Opto for clean, open, smooth action; Vari Mu for smooth, rhythmic pulsing.
Abyss completely discards physically imposed rules and restrictions, allowing him to masterfully display any desired characteristic. Aggressive, assertive, smooth, open, breathable, tight, clean, dirty… it's all here at your fingertips. Abyss fulfills the dream of a direct connection to sound without getting bogged down in technical details.
Immerse yourself and experience the endless colors, shades and symbols that Abyss beautifully extracts from your audio. It is designed to be equally at home on individual tracks and instruments, group busses, returns and main busses. It is designed to handle all mixing, banter and stereo mastering tasks.
Peculiarities
– Organic hardware feel and behavior.
– Covers the sound of all compressor topologies.
– Unique audio circuit designs: SOUL, PSI and O2.
– Less than 1% CPU usage and zero sample latency!
– All parameters are available in DAW for automation.
– Clipper routing and Brickwall limiter.
– AU, AAX and VST3 formats. LV2 coming soon.
Changelog
Version 1.2.0 April 4, 2023 .
– Fixed vintage oversampling effect above 5kHz.
– The problem with the loss of plugin authorization in Windows OS has been solved.
– Added "Save current plugin window size" button.
– Renamed ClassA HPF to Transformer.