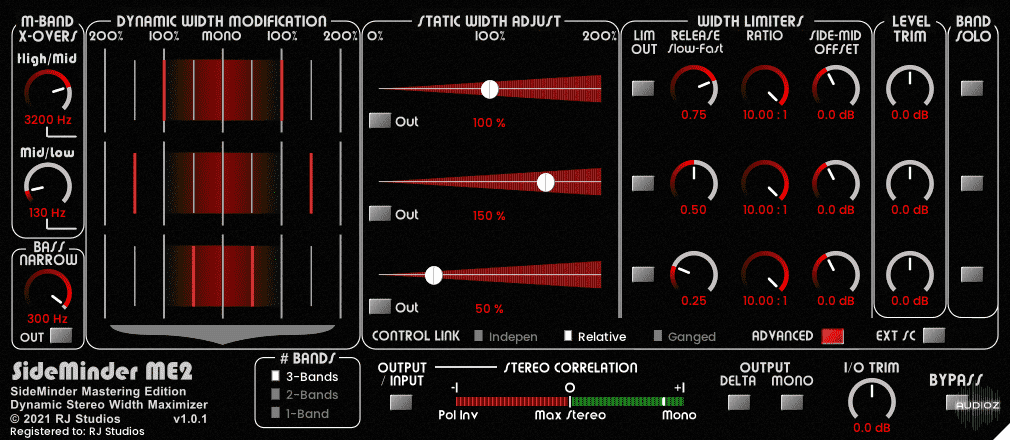 SideMinder ME2 (Mastering Edition) is the 2nd generation multi-band "big brother" to the SideMinder Dynamic Stereo Width Maximizer. SideMinder ME2 can be used to increase (or decrease) the width of stereo mixes while remaining MONO COMPATIBLE via automatic stereo correlation limiting. SideMinder ME2 controls the stereo width dynamically to keep the signal wide at all times imparting an almost "3D" quality to the sound. SideMinder ME2 is not a compressor and will not alter the dynamics of the mix, only the stereo width. SideMinder ME2 does not add ambience effects to the sound but, rather, brings out the stereo information that already exists in the mix (i.e., SideMinder ME2 will not generate a stereo signal from a mono source).
SideMinder ME2 now features a stereo sidechain input** option that allows new possibilities in mixing applications including "Fit it in the mix WIDTHWISE" – modulate the stereo width of one signal in complementary (inverse) response to the dynamically changing stereo width of another signal.
SideMinder ME2 provides up to 3 bands of independent stereo width enhancement and dynamic stereo width limiting with many additional features including:
User re-sizable GUI with automatic 2x scaling for high DPI video monitors.
Text value displays of all rotary and slider controls with double-click text entry for precise settings.
"Relative" control link mode allowing all controls in a group to be moved up/down while retaining their relative settings.
Mono/Stereo listen mode.
Normal/Delta listen mode.
Pre/post process correlation metering.
"Advanced" control panel with user adjustments for limiter Ratio and threshold Offset.
Band and Master Level Trim controls.
SideMinder ME2 is recommended for use on stereo buses and final mixes in both mixing and mastering applications.
**Optional sidechain input requires a stereo signal and is therefore not available on DAWs that only support mono sidechains (such as Pro Tools).
SideMinder ME2 is a 64-bit plugin available as VST2, VST3 and AAX for PC and VST2, VST3, AU and AAX formats formats for Mac OS 10.11 up (M1/ARM requires Rosetta).
home page.