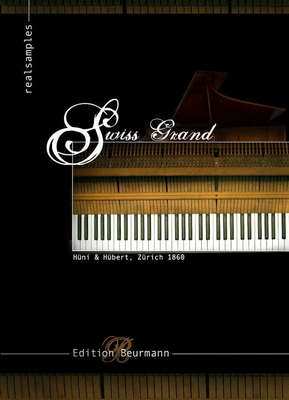 The Great Swiss Library has an unusual concert hall, built in 1860 by Hüni & Hübert. When the Zurich-based company burned down in 1883, it was the largest piano manufacturer in Switzerland. When you listen to this piano, it's easy to see why: it offers a rich, warm yet transparent sound with rough bass.
The instrument was assembled by Andreas Burmann and was kept in very good condition, remaining fully playable. It is now available for the first time as samples provided in its original setting at 437 Hz (presets at 440 Hz are also available).
We captured sound with 32 layers of velocity per note for expressive dynamic range. In addition, we have recorded 8 release sounds for each key. In addition to the samples, the Greater Swiss Library has an essay in German by Andreas Böhrmann explaining the instrument's background.
The sample library contains over 3,400 individual samples.
Presets are included for HAlion®, Kontakt® (full version required) and EXS24®.
For recording, we used Wagner ™ U47w® microphones with Crane Song ™ Flamingo® preamps and Universal Audio ™ 2192® digital converters. The instrument was recorded at 192 kHz / 24 bit and downsampled to 44.1 kHz / 24 bit.