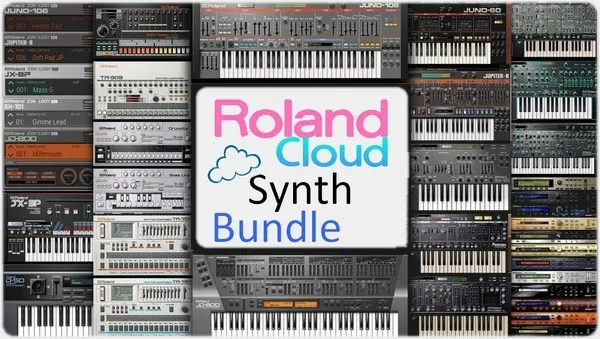 Roland Cloud is your gateway to a world of musical creativity, offering a growing collection of virtual instruments, creative applications, and audio extensions that seamlessly integrate into modern workflows. Whether you're a seasoned producer, an up-and-coming beatmaker, a touring musician, or simply someone taking their first steps in music production, Roland Cloud has something to ignite your musical passion. In this comprehensive guide, we'll dive into the impressive lineup of plugins and features that Roland Cloud has to offer.
Roland Cloud: Your Musical Playground
Genre Versatility: Roland Cloud caters to a wide range of musical genres, from the pulsating beats of techno, the nostalgic melodies of acid house, and the ethereal vibes of ambient, to the hard-hitting rhythms of trap, the timeless energy of rock, and the poetic lyricism of hip-hop. Whatever your musical inclination, Roland Cloud provides the tools and inspiration to enhance your tracks.
Explore Roland Cloud's Plugin Collection
1. SRX BRASS v1.0.4: This software synthesizer is your ticket to instant access to high-quality brass instruments, including trumpets, trombones, horns, tubas, and more. Experience lifelike articulations, falls, and realistic brass sounds that elevate your compositions.
2. SRX DANCE TRAX v1.0.6: Dive into the largest collection of custom drums available, meticulously crafted with input from leading engineers and producers worldwide. Create dynamic and infectious drum patterns for your tracks.
3. SRX ELECTRIC PIANO v1.0.4: Unleash some of the finest electric piano and keyboard sounds ever produced by Roland. Detailed sampling, top-notch microphones, and transducers capture every nuance, offering a rich palette for your compositions.
4. SRX KEYBOARDS v1.0.6: Relive the iconic keyboard sounds of the '90s with this plugin. Featuring nearly 400 ready-to-play patches, including acoustic and electric pianos, synths, organs, guitars, and more, it's a treasure trove of sonic possibilities.
5. SRX ORCHESTRA v1.1.0: This software synthesizer brings legendary orchestral expansion boards for legacy Roland synthesizers into the digital age. With over 400 inspiring orchestral sounds, including strings, horns, woodwinds, choirs, and percussion, it's a must-have for musicians seeking classic orchestral brilliance.
6. SRX PIANO 1 v1.0.2: Experience an exquisite concert piano with stereo sampling, perfect for composition, recording, and live performances. Let your melodies shine with the brilliance of this meticulously sampled instrument.
7. SRX PIANO 2 v1.0.2: Dive into the world of a stunning 88-note acoustic grand piano. Every note is captured in high-resolution stereo, complete with four-way speed switching and subtle nuances, offering unmatched realism and expressiveness.
8. SRX STRINGS v1.0.3: Elevate your compositions with the most expressive string instruments. Recorded with renowned European orchestras, this plugin provides the highest sound quality for your music projects.
9. SRX STUDIO v1.0.4: Focus on essential studio instruments sampled in a natural atmosphere. This versatile collection includes expressive pianos, crisp guitars, exquisite brass, punchy bass, and drums, offering a comprehensive toolkit for your creative endeavors.
10. SRX WORLD v1.0.5: Immerse yourself in the exotic sounds of Asia, Latin America, Europe, and beyond. This convenient virtual instrument allows you to infuse your creative projects with cinematic scope and global flair.
Changelog
Fixed Issues:
Default patches are now added when extension patches are loaded into RCM without running the plugin (SRX ORCHESTRA, SRX KEYBOARDS).
Window resizing is now more user-friendly, allowing you to adjust the size by simply dragging the bottom right corner, eliminating the need for zoom mode.