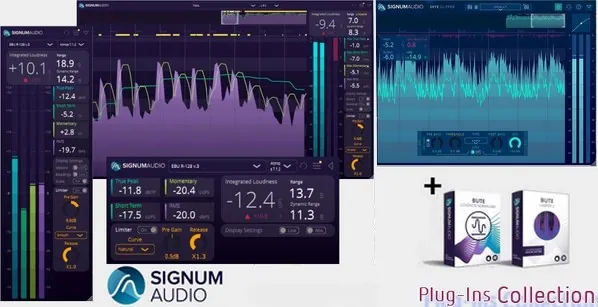 Innovative audio software adapted for the industry .
Signum Audio is committed to research and development in digital audio signal processing to improve the latest technologies, increase task automation, and empower the next generation of content creators. Our tools are designed to the highest standards with clear yet comprehensive user interfaces to help engineers navigate the ever-changing world of audio production.
Description of the package (All names are clickable, with a transition to offsite):
Bute Loudness Suite v2.0.1
 : A smart, professional set of tools for adjusting the sound volume. Make sure your audio is optimized for any broadcast or streaming platform. This toolbox includes all of our BUTE products with the additional True Peak limiting feature integrated into the main measurement module.
Craft smarter with our versatile loudspeaker toolbox designed to help you easily mix and master to loudness standards and avoid unwanted distortion down the road. Our proprietary algorithms provide ultra-transparent True Peak Brickwall clipping, automatic normalization, and accurate metering for professional, natural sound. All in one package with intelligent workklow features including history overviews and built-in presets for all major streaming and broadcast platforms up to Dolby Atmos 7.1.2 configurations.
Bute Batch Processor v1.1.0
: The BUTE batch processor is part of our range of loudness-related tools. It is a solution designed for automated processing of a large number of audio files. Our batch processor is ideal for large projects. It is stable, reliable, performant and most importantly delivers the highest sound quality. The BUTE batch processor is highly configurable and can be easily integrated into an existing audio production pipeline.
SKYE Clipper v1.0.0
: Limiter and saturator that can be used for mixing, mastering and creative sound design. It includes 7 different clipping types using our sophisticated proprietary real-time anti-aliasing algorithms, with a sleek, feature-rich yet simple user interface. Clippers are a great way to add perceived dimension to your tracks by shaving off peaks and adding more body, introducing harmonic saturation that can create a rich, punchy and fuller sound. They also work great as saturators, adding grit and crunch to your instruments.
SKYE Dynamics v1.0.2
: SKYE Dynamics is a three-in-one multi-stage dynamic processor for music production. It consists of an expander, a compressor and a limiter for ultra-clear processing. Support up to Dolby Atmos 7.1.4 in Surround version.