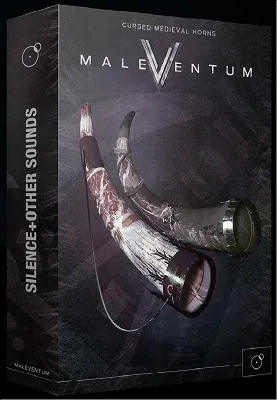 Maleventum is a Kontakt library inspired by medieval and Viking horns. We have dedicated ourselves to in-depth exploration of the cinematic sound of epic battle horns from ancient Scandinavian and Celtic cultures, from the carnyx to the gjallahorn and bukkeorn (goat horn). We have recorded a vast array of original medieval horns, classical orchestral trombone and tuba, traditional flutes, horns from pastoral traditions across Europe, and even homemade horns and trumpets.

Requires NI Kontakt FULL v5.8.1 and higher!
---
---
All of them have been processed and layered to create a collection of epic braams, hunt horn calls, war horns, low tone brass sounds, high pitched screaming trumpets, animal-esque wailing sounds and much else.
Each sound and instrument contained in Maleventum instantly evokes scenes of forgotten dark ages, Viking armies and warriors, epic ancient battles, vast frozen landscapes, mystical pagan cults and supernatural presences hovering in the wind of the nordic woods.
Maleventum is for TV, film and game composers and sound designers looking for unique, carefully crafted sounds to enrich their compositions. It fits particularly well the epic genre, with specific regard to fantasy and dark age movies. It will be a very useful tool to provide plenty of inspiration for horror and thriller composers as to producers of dark electronic music and ambient.
2 INSTRUMENTS IN ONE RELEASE: PLAYABLE HORN PADS & SOUND DESIGN ONE SHOTS
Maleventum is composed of 2 different instruments:
– a playable, MPE compatible Kontakt instrument with over 100 snapshots and 58 MPE Multis, that combines up to 4 layers of horns, flutes and rare bagpipe sounds and textures. The Horns & Flutes instrument really shines when creating evoking, mystical and intimate tonal textures.
If you own a Roli Seaboard, Maleventum has been scripted to create evolving, rich hybrid pads by blending the layers and simultaneously controlling a vast amount of parameters at your fingertips. Maleventum can be also used in standard MIDI and it's compatible with any midi controller.
– a Kontakt sampler of 260+ one-shots sounds (.WAV 96 kHz 24 bit) based on epic cinematic horns, tuned braams, war horns, viking horn calls, nordic hunt horns, dissonant trumpets, creature-reminiscent eerie horn tones, loud aggressive stabs, brass staccatos, long evocative tones, battle horn calls. With the intuitive GUI, you can individually manipulate each sample, combine multiple sounds and obtain your own bombastic war horn stabs and viking braams.
THE SOUNDS OF MALEVENTUM
We've recorded a huge deal of instruments to recreate the evocative nordic feel of Maleventum: from horn instruments of the rural tradition in several European, to the boasting low end countries of tuba and trombones to self-built, experimental horns to recreate a massive , bigger than life war horn sound. All of these sounds have been processed to create evocative pads and terrifying horn hunt signals. Here's a list of some of them:
•Pneumatic War Horn
•Fog horn
•Tuba War Horn
•Baritone War Horn
•Czech Shepherd Trombita
•Gjallahorn
•Sardinian Shell
•Wood didgeridoo with tuba mouthpiece
•Giant PVC horn with trombone mouthpiece (3 meters long)
•PVC Alphorn
•Ciaramella (Shawm)
•Giant Zampogna (Bagpipe)
•Wooden flute
•Fujara flute
MPE COMPATIBLE
MPE is the acronym of MIDI Polyphonic Expression. It is a specific MIDI technology which enables multidimensional instruments (for example Roli Seaboard or Haken Continuum) to independently control multiple sound shaping parameter for each individual note.
Maleventum supports MPE: you can easily MIDI map Volume, Low Pass Filter, High Pass Filter and LFO rate for each of the 4 layers of the playable instrument by using the Mapping screen. All of these parameters can be controlled per note, allowing you to create custom patches of rich, evolving end expressive pads and melodies from over 120 selectable horn pad sounds and textures, 58 MPE Multis and 100+ Snapshots. To discover more about the MPE implementation of Maleventum, please consult our free manual(link).
Maleventum is compatible with any MIDI controller, you don't necessarily need an MPE-compatible one and you can map the aforementioned parameters to the MIDI CCs of your controller.
EPIC HORN STABS
Maleventum also features a one shot SFX sampler with 260+ samples. The intuitive GUI allows you to individually manipulate each sample at your choice.
Maleventum features an useful Global Tuning function to tune ALL the samples to the same root key with just one knob, which turns very useful for more minimalist and aggressive compositions such as trailer music.
The UI in Maleventum includes also a cinematic low end Boost function, that instantly invigorates the bass frequency register of the samples with just one click, to make you braams really roar.